New Zen Garden at FAB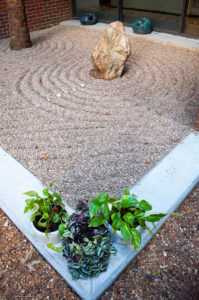 On January 21st, at 4pm, the Department of Art was pleased to present a newly completed Z e n G a r d e n, now located between Ceramics and Sculpture at FSU's Fine Arts Building (FAB).
Also referred to as a Japanese rock garden or "dry landscape" garden, the zen garden creates a miniature stylized landscape through carefully composed arrangements that can include rocks, water features, moss, pruned trees and bushes, and uses gravel or sand that is raked to represent ripples in water. Often a zen garden is small, surrounded by a wall, and meant to be seen while standing or seated from a single viewpoint outside of the garden. These gardens were intended to imitate the intimate essence of nature, not its actual appearance, and to serve as an meditation guide to discovering the true meaning of life. — Le Jardin Japonais
By placing the Zen Garden outside of the Fine Arts Building it offers a spot of tranquility for busy students and professors alike.
Gallery
Photographer: Natalie Giulianelli