Home
»
News

»
Carnaghi Arts Building Opening Receptions: "No Vacancy" and "Wait, Wait, Don't Tell Me"
Carnaghi Arts Building Opening Receptions: "No Vacancy" and "Wait, Wait, Don't Tell Me"
Opening Reception: January 29th, 7:00-9:00PM
On Friday January 29th, the Florida State University Department of Art will host two art shows within the Carnaghi Arts Building (CAB): No Vacancy in the Working Method Contemporary and Wait, Wait, Don't Tell Me: A Group Show in the Phyllis Straus Gallery
---
Please join the D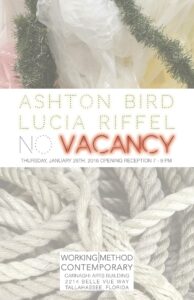 epartment of Art and Working Method Contemporary for the opening reception of No Vacancy, a collaborative installation work by Lucia Riffel and Ashton Bird.
Working Method Contemporary is the dedicated gallery space for Masters of Fine Art Students at Florida State University. The program is composed of approximately thirty graduate students pursuing a terminal degree in Studio Art. The gallery provides students a space for exhibition, experimentation, and documentation of works created while attending Florida State.
No Vacancy is free and open to the public. There will be food and light refreshments at the opening reception.
RSVP on Facebook to No Vacancy here
---
Next to the No Vacancy reception, in the Phyllis Straus Gallery, please join the Department of Art in the opening reception of another exhibit, Wait, Wait, Don't Tell Me: A Group Show.
A collaborative show by Brook Huseby and Aubrey Finnegan, the show is described as:
A disparate collection of works that are currently still in progress, set aside for a while, or abandoned completely.

Also kind of like the NPR show, but not as clever.

A limited number of catalogs will be available upon a first come-first serve basis. Light food and beverages will be provided.
RSVP on Facebook to Wait, Wait, Don't Tell Me: A Group Show here
---
Carnaghi Arts Building
2214 Belle Vue Way
Tallahassee, FL