Paula Gerson Research Grant Fund (F08461)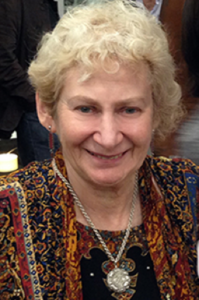 Established by alumni and friends, the "Paula Gerson Research Grant Fund" provides support to students working in the area of Medieval Art History – Western European or Byzantine (pre-Ottoman conquest by Constantinople) – for travel or research while honoring the legacy of Professor Emerita Paula Gerson.
Professor Gerson (Ph.D., Columbia University) has held appointments at Washington University, Princeton, Carnegie Mellon, Columbia, UNC, and Rutgers. Before coming to Florida State University, she was the Executive Manager of the International Center of Medieval Art at the Cloisters in New York City. She became the Chair of the FSU Department of Art History in 1996. Her major fields are Romanesque and Gothic Art and Architecture. In addition to her art history scholarship, Dr. Gerson is an avid photographer who has exhibited her work in solo and group shows. She retired from FSU in the spring of 2013, at which time she was celebrated with a grand retirement party and honored with the title of Professor Emerita.
An all-day symposium in honor of Professor Gerson was held at Columbia University in March 2014, supported by Columbia University's Department of Art History and Archaeology; the Index of Christian Art, Princeton University; Young Harris College; and students, friends and colleagues of Professor Gerson.
Paula Gerson Research Grant Fund Past Recipients:
2016/2017
Diedre Carter, 2016/2017 Recipient (Ph.D Candidate)
2014/2015
Elizabeth Spraggins, 2014/2015 Recipient, Class of 2013 (MA Art History)
---
Make a Donation
To make a gift online to this fund, please click the Give button, choose "More Designations" and type in the fund name. Please mail checks, made payable to "FSU Foundation" with the fund number (F08461) noted to the address below.
To discuss a gift to the College of Fine Arts at Florida State University, please contact:
Jessica Comas
Director of Development
FSU College of Fine Arts
236 Fine Arts Building
Tallahassee, FL 32306-1170
(850) 645-0701
jcomas@fsu.edu