Pearl Tyner Endowed Professorship in Arts (F06971)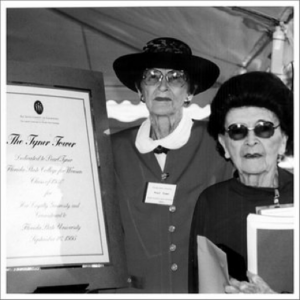 Pearl Tyner (1908 – 2006) was born near Laurel Hill, where she attended high school. She graduated in 1930 from Florida State College for Women (FSCW) with a major in Dietetics.
Tyner was a dietitian for both the Florida Power and Light Company and the Veterans' Administration. Her work with the Veteran's Administration took her to New York City, and eventually to Wichita, Kansas, as a chief dietitian and then to a stint with the Army's 58th General Hospital. She enlisted in the Medical Corps during World War II and served in the European Theater of War near the front lines. She received an honorable discharge from the U.S. Army after attaining the rank of captain. Tyner, being a strong advocate for education, always tried to help her community. Her generosity was celebrated in her hometown of Laurel Hill by naming her Citizen of the Year.
Her attachment to Florida State University was shown by her donations to and support of the University. One of the many gifts she left to FSU was an Endowed Professorship in the College of Fine Arts to honor distinguished faculty who have shown success.
Pearl Tyner Professor Gerri Houlihan
Gerri Houlihan was a professor at Florida State University when she was named the Pearl S. Tyner Distinguished Professor in Teaching in 2013. She held that title until her retirement in Spring 2016. Houlihan has performed, choreographed, and taught dance across the U.S. and Europe. She is now serving as the Dean of the ADF School (American Dance Festival) in North Carolina.
---
Make a Donation 
To make a gift online to this fund, please click the Give button, choose "More College/Unit Designations" and type in the fund name. Please mail checks, made payable to "FSU Foundation" with the fund number noted to the address below.
To discuss a gift to the College of Fine Arts at Florida State University, please contact:
Jessica Comas
Director of Development
FSU College of Fine Arts
236 Fine Arts Building
Tallahassee, FL 32306-1170
(850) 645-0701
jcomas@fsu.edu