Reinstallation and Reinterpretation of The Ringling's Museum of Art Galleries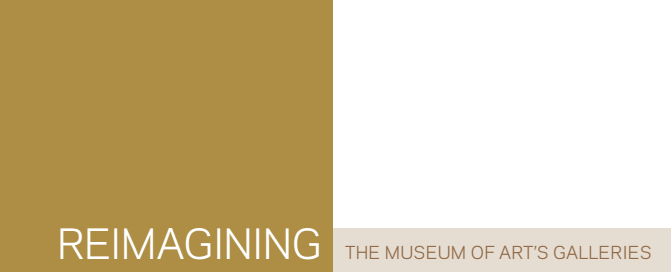 The reinstallation and reinterpretation of The Ringling's exceptional collections of European art in the original 21 galleries in the Museum of Art has been a major focus of the work of Dr. Virginia Brilliant, Ulla R. Searing Curator of Collections, for the last two years, and represents a new and transformative vision for the Museum of Art.
"The current arrangement, which is based chronologically and has not been revised since the 1980s, does not convey to visitors what is special about our holdings," said Steven High. "By reimagining the Museum of Art's entire suite of galleries, we will bring John Ringling's vision into the 21st century and enhance the visitor experience for generations to come."
When John Ringling died in 1936, he stipulated that his collection not be sold but otherwise granted an enormous amount of freedom, hoping and expecting that his Sarasota legacy would grow and change.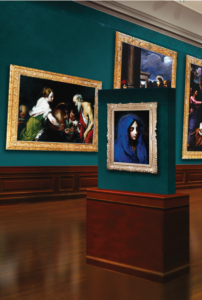 With this in mind, Brilliant, together with former Metropolitan Museum of Art designer Jeff Daly, has planned an ambitious scheme, working from the premise that meaningful encounters with individual works of art should be the centerpiece of the visitor experience, and that the Museum of Art should be welcoming to visitors and present its collections in accessible and engaging ways. The two surveyed recent successful museum installations of similar material—including the Wallace Collection, Metropolitan Museum, Yale University Art Gallery, and the Rijksmuseum— particularly where modern design principles have been brought to historic buildings and collections.
"This reinstallation project represents an entirely new vision for the Museum of Art, one designed with visitor engagement in mind," said Brilliant. "The reinstalled galleries will present audiences with key art historical themes, not only through the selection and arrangement of the works themselves, but also by using the most modern methods and materials of museum design."
Brilliant's first task was to take a critical look at the collection. Though The Ringling's European painting collection is not comprehensive, it does boast great depth in particular areas.
So it made sense to begin reorganizing the collection with an eye toward emphasizing its greatest areas of strength. For example, the magnificent collection of Italian Renaissance altarpieces will have its own gallery, which will evoke the nave of a church. The Ringling's phenomenal collection of Italian Baroque paintings will be divided between the two distinct strands of this period—the dramatic naturalism of Caravaggio and his acolytes and the harmonious, monumental classicism of the Carracci and their followers—and will include works of art created in Italy but often by French, Dutch, or Flemish artists. Other galleries will be organized thematically, for example, to showcase The Ringling's still life paintings, with the intent that each will be its own "focus show."
The reinstallation also offers an opportunity to show collections that aren't currently on view. The Ringling's holdings of Cypriot antiquities—more than 2,000 pieces in total—are of great importance and third in size among American collections. In the new installation this collection will have its own dedicated gallery. The reinstallation project also endeavors to show works of art to best advantage and situate them in appropriate and beautiful contexts through much improved lighting, complementary wall colors, modern casework, and graphics. Through subtle signals and cues, each gallery will guide visitors to the two or three objects that should not be missed. New object labels are a critical piece of the reinstallation project and will provide new information about the works in the galleries to further engage and educate visitors.
To support this significant project, please contact:
Anna von Gehr
Senior Director for Development
941-359-5700 x 5804
anna.vongehr@ringling.fsu.edu