School of Dance Presents New Interdisciplinary Course Spring 2017
Resistance & Liberation: An Exploration Through the Body
Instructed by: Darrell Jones, pearl ubungen and Jawole Zollar
DAN 4935 & DAN5930
Liberatory Practices
Wednesdays 2:00 – 4:50PM
This course will be taught by three highly respected, groundbreaking dance creators, Darrell Jones, pearl ubungen, and Jawole Zollar. All three of these award winning choreographers have used their creative and embodied research as a tool for exploring cultural issues and stimulating social change. The collaborative lab between these three amazing teaching artists is definitely not to be missed! Students from all disciplines will be able to participate and take something away from the class. All that is needed is an openness to explore and receive.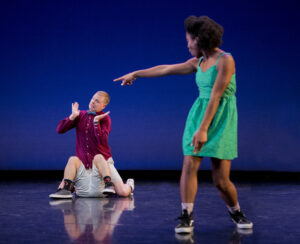 This new studio course takes an interdisciplinary approach to explore how gender, ethnicity, and place can shape historical models of liberation, resistance, and the creative drive against oppression through embodied / experimental research.
Course Methodology:
Embodied Research
Improvisation
Group Ensemble Work
Readings / Writings
Film Viewings
Fieldwork outside of the classroom
For more information, contact Jawole Zollar at wzollar@fsu.edu
---
The School of Dance is committed to taking a proactive approach to talking about and exploring ways in which our art can facilitate ways of processing, healing, and addressing mindsets and stereotypes that are considered "other" by society. This Fall we were honored to have a dynamic Forum led by representatives Inam Sakinah and Gabrielle Stratiotis from the #PowerofWe campaign along with a presentation from Amber Hampton of FSU's Center for Leadership and Social Change. Students have since taken up various initiatives and conversations, including designating and taking the steps to make Montogomery Hall a "safe space."
Continuing with this commitment, the School of Dance is offering a unique interdisciplinary course combining the research and perspectives of two of our Spring guest artists—Darrell Jones and pearl ubungen—along with School of Dance faculty member Jawole Willa Jo Zollar in the Spring of 2017. "Resistance and Liberation: An Exploration through the Body" (DAN 4935 and DAN 5930) is open to students across campus. A unique course, Liberatory Practices, will integrate embodied/experimental research as a tool for exploring cultural issues and stimulating social change. This interdisciplinary class will take new approaches to bring herstory/history, current social justice movements, cultural traditions, and subtle embodied practices into close proximity in order to investigate the larger "body politic" of our communities. Students will investigate resistance, liberation and the creative drive against oppression using various methodologies: embodied research, improvisation, ensemble work, readings, writings, film viewings, and fieldwork outside of the classroom.
Each of the artists are renowned in the field and are entrenched in using their art to explore, engage, and push the conversation around social injustices and community engagement in various settings. Jawole Willa Jo Zollar is a contemporary dance, choreography and directing professor in the School of Dance and Founding Artistic Director of Urban Bush Women. Jawole has developed a unique approach to enable artists to strengthen effective involvement in cultural organizing and civic engagement. pearl ubungen is an interdisciplinary artist, cultural activist, and community historian who includes in her influences the teachings of Shambhala Buddhism, embodied contemplative practices and local advocacy/activist work. Ms. ubungen continues to evolve a multi-layered process called "Diamante" which gives equal weight to community research and engagement, music and movement improvisations, and dharma teachings. She creates large-scale site works that relate directly with the notion of place/displacement, decolonization, ancestral presence/lineages, diasporic movements and voices/embodiment/resistance of people of color, working class and unhoused communities. Darrell Jones has performed in the United States and abroad with a variety of companies. Darrell's research area of interest includes feminized ritual performance and the function it serves for the individual/community. He is currently a faculty member at the Dance Center of Columbia College in Chicago where his classes are informed by his training and studies in a variety of contemporary dance techniques, improvisation, Butoh and traditional dance forms.