Ringling Underground Returns on Feb. 5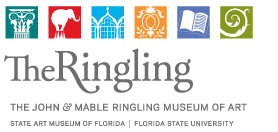 New Season Line-up for Underground Announced
A fresh slate of bands and some of the best up-and-coming local artists will usher in the new season of Ringling Underground starting on Feb. 5.
Ringling Underground is a block-party style event that features three indie bands, showcases contemporary artists in the Courtyard of the Museum of Art, and allows guest to view the galleries in the Searing Wing including the James Turrell Skyspace "Joseph's Coat" from 8-11 p.m. the first Thursday of the month from February-April and September-November.
"Ringling Underground uses music and visual art to engage a younger audience who represent the next generation of Museum members and patrons," Steven High, executive director of The Ringling said.
The Feb. 5 edition will open with Sarasota-based Hymn for Her. These self-described "Hell's Angels meet the Amish" performers combine country blues with rock as they tour the country in their 1961 Bambi Airstream trailer.
Next, Bulgarian-born Geri X will come down from Tampa to bring her singing and songwriting to Sarasota. Her classical training influences her, but she tries to bare her soul and connect to her audience emotionally through her music.
The headliner will be Triathalon, a three-man group from Savannah, Ga. They describe their music as blend of Motown and surf sound with a dose of experimental "sketchiness."
The featured exhibition will be "Seeing the Unseen," which is a collection of contemporary Chinese photography and film. Throughout the event, visitors are invited to explore the photography and mirror tricks used by Li Wei, one of the artists in the exhibition, who soared about the skies of the Courtyard of the Museum of Art last November.
On March 5, Ari and The Alibis will open Ringling Underground.  They are new to the Sarasota scene, and the five members of the group combine to create a funk, jazz and samba sound that has been compared to bands like Chicago or the Tedeschi Trucks.
Y Los Dos Pistoles will take the stage next with their noisy garage pop sound. This foursome from Tampa have been perfecting their category defying music since 2008.
All the way from Auckland, New Zealand, The Penny Dreadfuls bring hardcore punk to the headline act at Underground. This all girl band has been influenced by groups such as Bikini Kill, Babes in Toyland and Black Flag.
"Expressive Bodies," a collection of photographs, rare books, and works on paper that surveys the human form through four centuries of Western art, will be the featured exhibition for this edition of Underground. Tricia Brown, a choreographer/painter featured in the exhibition, documented her dance by pressing her feet in ink and dancing on a blank sheet of paper. Visitors are invited to similarly record their body movements by painting on a communal "Body Drawing" mural without using their hands.
On April 2, the Sarasota-based two-person folk band Lady and Gentleman will take the stage first.
They will be followed by the one-man soul band from Orlando, Maximino. Gerald Perez describes his music as, "psychedelic soul that stems from orchestral minimalism and experimental folk." He uses instruments including synthesizers, a guitar and a cello among others to create his sound.
Washington D.C.-based psych-pop art rock band Young Rapids are the headliners. Described as "..a spectacular rainbow of sound.. orchestration constantly diverts to new forks in the road," the Young Rapids are a four-person group with a growing following in the northeast.
The featured exhibition for this edition of Underground will be "Re:Purposed," which features the work of contemporary artists who reuse discarded materials to create art. Visitors can participate in a related interactive project called "DisCardboard." In this project, visitors are invited to consider something in their lives that they have discarded (for better or for worse), write it on a piece of recycled cardboard, and add it to a growing communal sculpture.
Ringling Underground is always free for college students with a valid college ID.  It is an extension of the Art After 5 program held on Thursdays after
5 p.m.

  After hours discounted admission is $10 for adults; $5 for children 6-17, children 5 and under and Museum Members are free.  Ringling Underground is a rain or shine event.  Food and refreshments are available for purchase. Share your Underground experiences on social media using the hashtag #RinglingUnderground.