Small Craft Advisory Press hosts artist Sean P. Morrissey to collaborate on 'Buildup'
Small Craft Advisory Press (SCAP) welcomed their newest collaborator, Sean P. Morrissey, into the studios at Facility for Arts Research (FAR) in May 2016. During the visit, Morrissey worked alongside SCAP's Denise Bookwalter, AB Gorham, and Sara White to finish letterpress printing the edition of three folios, which each feature elements of imaginary homescapes with collaged geometric interiors. When folded into 6″x6″ booklets, these folios embody the constructed tension that exists when an interior layout is at odds with an exterior world.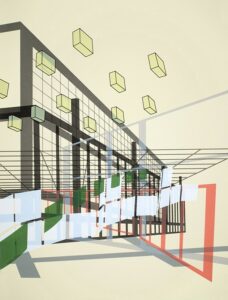 Morrissey states, "Buildup explores issues of land use and identity through the typology of predetermined suburban building elements. The three objects unfold to reveal renderings of so-called custom homes, utilizing floor plans and house structures overlaid with ordinary architectural imagery. This project sheds light on the pre-planned choices within home construction as a mirror of personal identity."
Sean Morrissey lives and works in Fayetteville, Arkansas where he is Assistant Professor of Printmaking at the University of Arkansas.
Buildup is the second collaborative book project for SCAP this year, (after artists Tricia Treacy and Aaron Cohick visited in January to begin work on their modular-type inspired book), keeping the studios busy with production!