School of Dance in Paris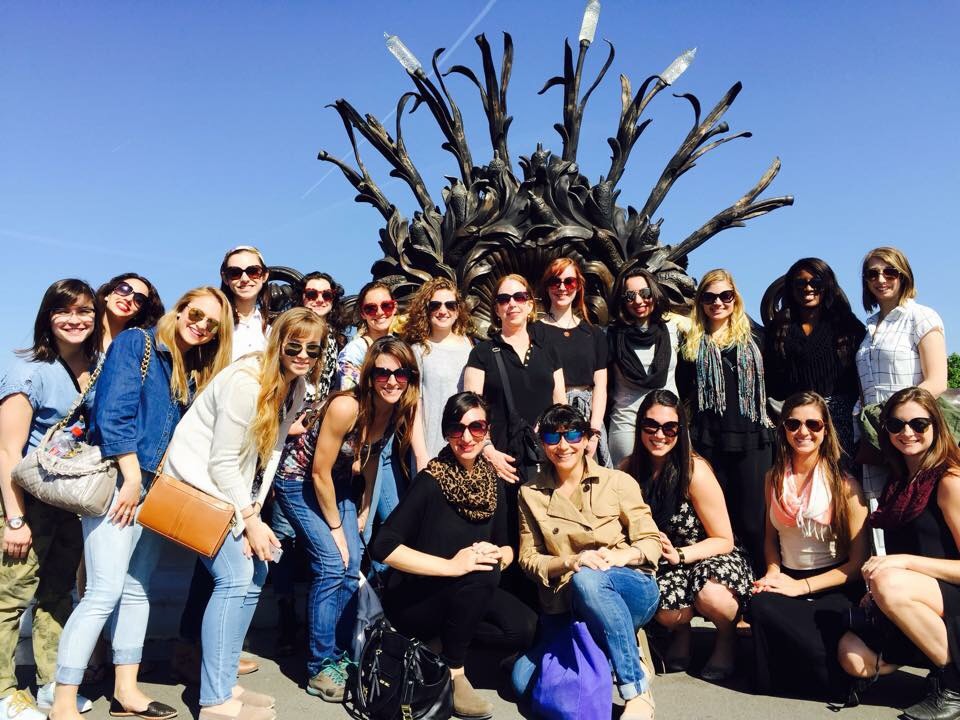 The FSU School of Dance/International Program offers a unique study abroad program "Dance in Paris" that immerses the students in the dance scene of Paris through technique classes in various genres throughout the city, dance history related to cultural sites, and the opportunity to attend performances and rehearsals over the four week course.
Now in it's fourth year, the program is open to dance majors from other universities if there is space. This year's program consists of 19 students of which 14 are from FSU, one from Jacksonville University, two from Oklahoma University, one graduate student from Arizona University and one graduate student from Temple University. The graduate students will present an informal showing of work inspired by their time in Paris at the Studio Le Regard du Cygne on June 4.
A major portion of the students' written work is through a personal blog commenting on French and American cultural differences, teaching styles and the students' reactions to personal experiences throughout the program. Sarah Wilcoxon and Danielle Sheather have shared excerpts from their blogs for a more in depth look at their unique experiences during their first two weeks in Paris.
Week 1: Cultural Differences and Dance History Immersion
Sarah Wilcoxon, Florida State University (3rd Year MFA Candidate)
Even though I researched and prepared as much as possible beforehand, I definitely experienced some culture shock when I first arrived in Paris. The biggest difference I keep noticing is that Americans are more expressive and animated then the French (the French would probably just say we are loud). Our group is constantly reminding one another to quiet down or keep our reactions smaller. This translates to my movement experiences in dance classes as well. In my view, French dancers take up much less space than American dancers. Our FSU group is full of big movers – we reach past the tips of our fingers and toes, take big steps, and sweep across the whole studio in just a couple of counts. The French are completely opposite. I sometimes feel a little trapped or caged in when I'm surrounded by French dancers, and I'm not even a very "big" mover by American standards. I wonder if geography has anything to do with the development of these movement styles… The French are a bit boxed in by mountains while America is known for its vast space. France is smaller in geographical space and has been settled and inhabited for many centuries, while America still feels new and expansive by comparison. It seems no surprise that we move like we have space to spare when considered from a cultural and geographical perspective.
I was nervous about taking dance classes in another language, but I've actually found it to be one of the most interesting parts of this experience. I understand enough French to pick up key words and get an idea of the teacher's topic; and I can use visual cues to fill in where I don't understand. But without the benefit of full, detailed comprehension, we are left with no choice but to simply try something. There is no option to overthink or get "caught" in your own head. When I take dance classes in French I am forced to trust my body's intelligence in a way that is both liberating and empowering.
Beyond the exciting challenges and opportunities offered by immersing myself in a different culture, we have gotten to make some incredible dance history connections in our first week here. Our group was lucky enough to participate in a master class taught by Beatrice Massin's assistant .Massin is a global leader in Baroque dance reconstruction, particularly surrounding the time of King Louis XIV. This is especially important to dancers because Louis XIV is credited as the father of ballet technique. The timing of the baroque dance class was perfect because we headed out to Versailles the very next day. Louis XIV used to host dance performances in a large courtyard on the side of the chateaux. A group of us had a laugh as we practiced the steps we learned in our court dancing class right in the Versailles courtyard. We have all had the chance to learn about this piece of dance history at FSU, but it means so much more to embody the historic movement and walk through Louis XIV's halls. We are literally dancing in the footsteps of the people who made our passions possible.
Week 2: A Palais, A Studio, A Museum and Some Killer Classes:
Danielle Lydia Sheather, University of Arizona (2nd year MFA Candidate)
The second week of the Dance in Paris Program has been filled with culture, art, and an appreciation for dance on a whole new level. I'm unbelievably happy I was able to find a program that fosters both the international dance scene and graduate level education. We are able to explore the ins and outs of Paris individually and as a group, and are encouraged to seek out opportunities for shows and cultural happenings.
Our week started off with a tour of the Palais Garnier. We were even allowed to enter through the famed, "Entrées des Artistes," the Stage Door. This gave us dancers a moment of veneration as we stepped through the threshold. Our tour started in the basement and we learned that the famed Palais Garnier, with the ceiling painted by Chagall, was actually built on a water table because the ground was too unstable. We were introduced to the pulley system that used to allow for set changes and storage, which now has been completely modernized by computers. We were walked through the library that houses the history of Louis le XIV and his Academie Royale de la Danse. There were paintings of Marie Camargo and other illustrious ballerinas of the time that lined the entrance. We were then ushered through the dressing room halls where Roberto Bolle's name was taped to the door. Finally, we walked feverishly through the backstage area so as not to disturb the set changes that were happening for the evening's performance of L'Histoire de Manon. It was an incredible hands-on history lesson that no one will soon forget.
If that weren't enough of an experience, the following day we took class at the Opéra Bastille in a classroom called "Salle de Nijinsky" with students from the Paris Opera Ballet satellite school in Montmartre as part of a cultural exchange between American and French students. We were so lucky to have the experience to once again walk through another "Entrées des Artistes," and this time we were coming in as dancers.
The week ended with trips to the Musée de L'Orangerie and the Musée D'Orsay. Although even before these visits we were introduced to dance and visual art as an entire realm of study. We were invited into the home of Christophe Boices, who lectured on Impressionism, Degas, and Toulouse-Lautrec. This insight allowed us to look at Impressionism and art in a more thoughtful and deliberate way. I found myself comparing some of the art to dance and choreographic choices and was pleasantly surprised at our group's ability to appropriate what we learned in Christophe's home so quickly.
We have also been taking daily dance classes, which continue to inspire me as a dancer, choreographer, and researcher. This week we had more freedom to decide which classes we might want to attend. We had the choice of not only teachers but also which studios or conservatories to attend. This gave us ownership of our dance education abroad and really asked us to ponder what we desired in our dance training. I chose to take class at L'Academie Americaine de Danse and at Managerie de Verre. My favorite class was Nina Dipla's. She is a former Pina Bausch dancer and the most giving spirit I have met. Her teaching and love for what she does emanates effortlessly as she guides the class. She taught excerpts from Jose Limòn's Choreographic Offering and some gestures from various Pina Bausch repertoire.
All in all the Dance in Paris week two experience has been so varied in dance and culture and art I'm excited to see what week three has in store!