School of Dance MFA Candidate Amanda Sieradzki Presents "Fangirl & The Liner Notes"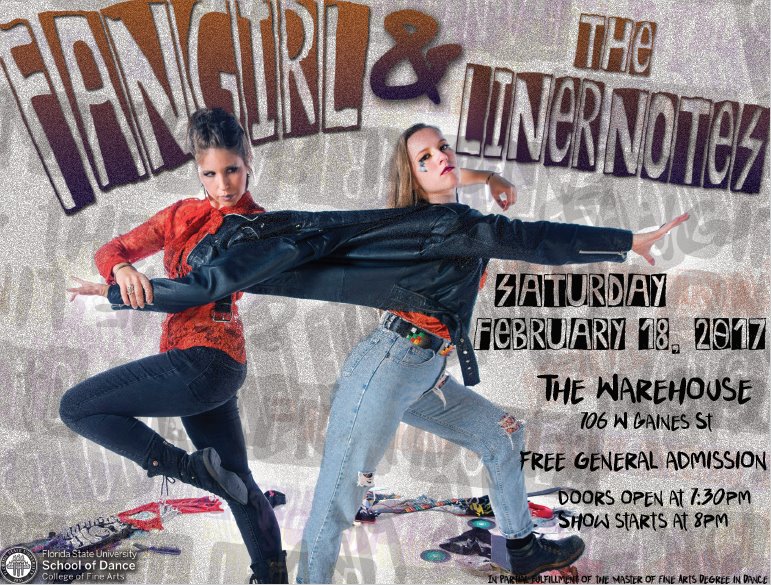 School of Dance MFA Candidate Amanda Sieradzki will present "Fangirl & The Liner Notes", in partial fulfillment of the Master of Fine Arts Degree in Dance, on February 18, 2017 at 8:00pm in the Warehouse at 706 W Gaines St. All ages show. Doors open at 7:30pm. General Admission is free at the door, however seating will be first come first serve.
Weaving together dance, original poetry, and music, fangirl & the liner notes is an interdisciplinary dance performance that utilizes the venue and structure of a rock concert to build an immersive, participatory atmosphere.
Part open mic, part choreography, the piece explores what it means to grow up in relation to the music we listen to and how it shapes our individual identity as we come into adulthood. For fans of Green Day, Blink 182, and Fall Out Boy, attendees will travel through the fangirl's pop-punk heyday and are encouraged to engage with the performers at their level of comfort—singing, dancing, and moshing.
Regardless of musical tastes, attendees at this all-ages show will hopefully reconnect with their inner-teenager and reflect on the albums and eras that helped to define them.
Free and metered parking garages and street parking is available on and off of Gaines Street.