School of Dance MFA Candidate Gabriel Williams Presents Moving Together
School of Dance MFA candidate Gabriel Williams will present Moving Together: Lecture Demonstration and Film Exploring Dance Partnering, in partial fulfillment of the Master of Fine Arts Degree in Dance, on February 3rd and 4th, 2017 at 7:00PM in the Nancy Smith Fichter Dance Theatre in Montgomery Hall, located on FSU's campus.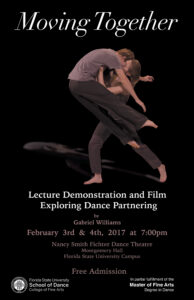 The evening will address partnering, one of the most enigmatic and intimate aspects of dance technique. This exploration will include lecture and ethnographic research used in the development of a gender-neutral partnering course taught at FSU during the fall 2016 semester by Gabriel Williams. Dancers from the course will give demonstrations of skills honed during their time in class. A short documentary will provide increased visual context for the ideas about partnering.
The event will also include Contaction, a screendance choreographed, shot, edited, and directed by Gabriel Williams featuring three dancers from the partnering course. The film explores the meaning we find behind physical connection in intimate human relationships, and uses skills taught and practiced in the partnering course as storytelling tools. A question and answer session will conclude the evening.
Admission to this event is free. For ticket information, contact the Fine Arts Ticket Office at (850) 644-6500, or online.
For more information about the School of Dance, contact La Toya Davis-Craig by phone at (850) 644-2449 or via email at ldavis3@fsu.edu, or visit dance.fsu.edu.
Photos courtesy of Meagan Helman