School of Dance MFA Candidates Present: "Time Framed"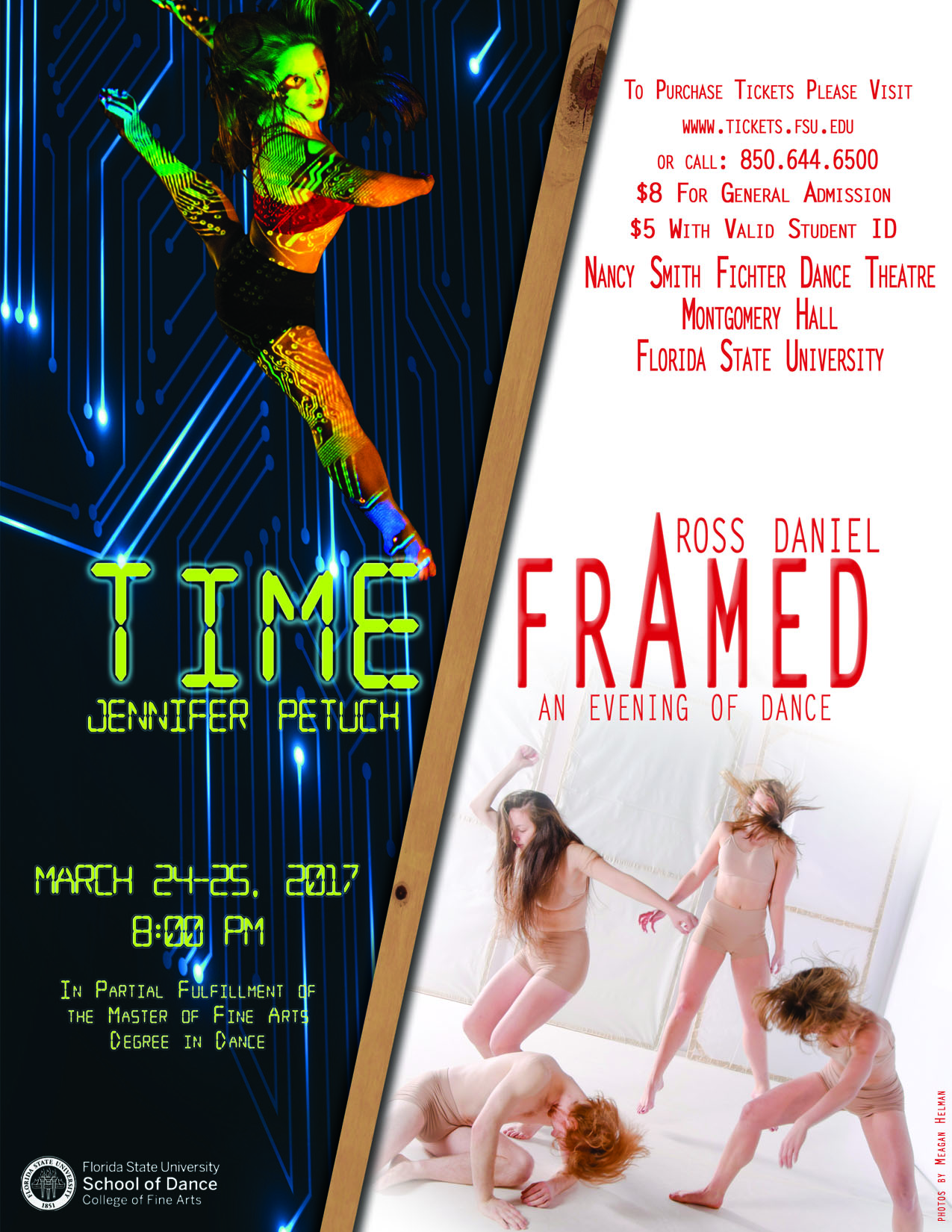 School of Dance MFA candidates Jennifer Petuch and Ross Daniel will present Time Framed in partial fulfillment of the Master of Fine Arts Degree in Dance on March 24–25, 2017, at 8:00 p.m. in the Nancy Smith Fichter Dance Theatre in Montgomery Hall, located on FSU's campus.
Petuch choreographed, directed, digitally designed, and is a featured dancer in her 25-minute narrative work, Within Time's Grip. The work follows the journey of the protagonist (Petuch) through her formative years into her possible future. She moves through a metaphorical riff in the "Locker of Time," and must traverse different worlds that represent life's challenges, illuminating how her actions, decisions, trials, and triumphs shape who she will become in the future. By combining dancers, projections, and an interactive computer-tracking program, Petuch creates a symbiotic relationship between her choreography and her projection designs, culminating in a work that appeals to multi-generational audiences.
(A-frame vs. Human Form) & (Structure vs. Emotion) are the intertwining ideas that Daniel investigated in order to create his Infinite K, a 21-minute work in which the composition and decomposition of physical and sculptural structures take place throughout the duration of the work. The performers manipulate flat, transparent rectangles (7.6 feet in height and 3.6 feet in width) to create sculptures that are in direct contrast to the size and structure of the human body, blurring the lines between inanimate objects and the human form.
In addition to their main stage works, Daniel and Petuch have also created pre-concert offerings. In the lobby of Montgomery Hall, Daniel will be exhibiting wooden sculptures that he built in conjunction with his choreographic exploration. This sculpture building practice is the catalyst for the movement seen in Infinite K. Petuch's exhibit showcasing the interactive tracking software ViFlow, made in collaboration with the FSU Computer Science Department, will take place in the William Johnston Building Art Gallery daily from 9:00 a.m. to 5:00 p.m. during concert week, Monday–Saturday, March 20–25, 2017. Come and enjoy the fun!
Tickets are $8 for general admission, $5 for FSU Students with a valid FSU ID. To purchase, contact the Fine Arts Ticket Office at 850-644-6500, or online at www.tickets.fsu.edu.
For more information about the School of Dance, visit dance.fsu.edu, or contact La Toya Davis-Craig at (850) 645-2449 or email at ldavis3@fsu.edu. The School of Dance is part of the College of Fine Arts at The Florida State University