Home
»
News

»
School of Dance Partners with CAI and Power of We for "Dance with Power of We: Embody Inquiry"
School of Dance Partners with CAI and Power of We for "Dance with Power of We: Embody Inquiry"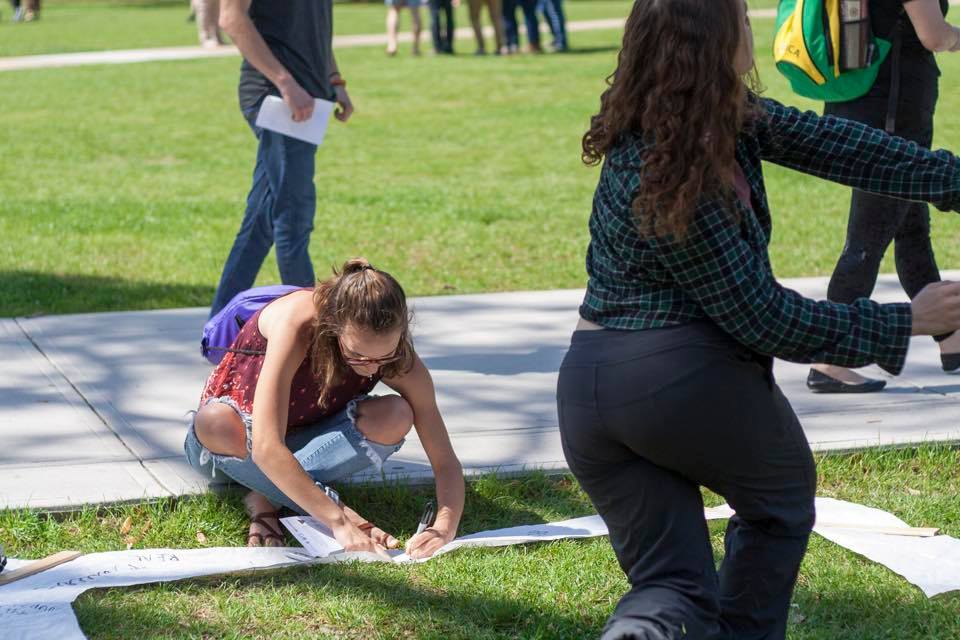 The School of Dance partnered with student groups Community Arts Initiative (CAI) and Power Of WE to create an audience-driven interactive dance experience for the FSU community entitled, Dance with Power of We: Embody Inquiry, on Friday, March 24, 2017.
Community Arts Initiative is a School of Dance student group created to foster artistic based community engagement activities, and Power of We works to redefine diversity and inclusion at FSU. The three entities collaborated to curate a dynamic, interactive, community-driven artistic exploration of diversity.
A slow walk meditation was led by dance faculty and CAI co-advisor, Ilana Goldman, with other School of Dance faculty and FSU students to show solidarity with those of diverse cultures, colors, faiths, and gender and sexual identities who face discrimination and prejudice. The walking meditation took the path from Strozier Library to the fountain on Landis Green.
The Embodied Inquiry was divided into installations. Students Bridget Close, Sarah Diamond and Ross Daniel with featured dancers Genevieve Li, Scott Lindenburg, Kayla McClellan, Ryan McMullen, Jenée Strand and Mary Catherine Womack created dance installations. Power of We members mediated the performances and engaged audience members in meaningful dialogue about the complexities of our human story: discrimination & prejudice, impressions & assumptions, progression & regression, and gender identity & gender expression.