School of Dance Presents MFA Concert, "Le Passage du Temps"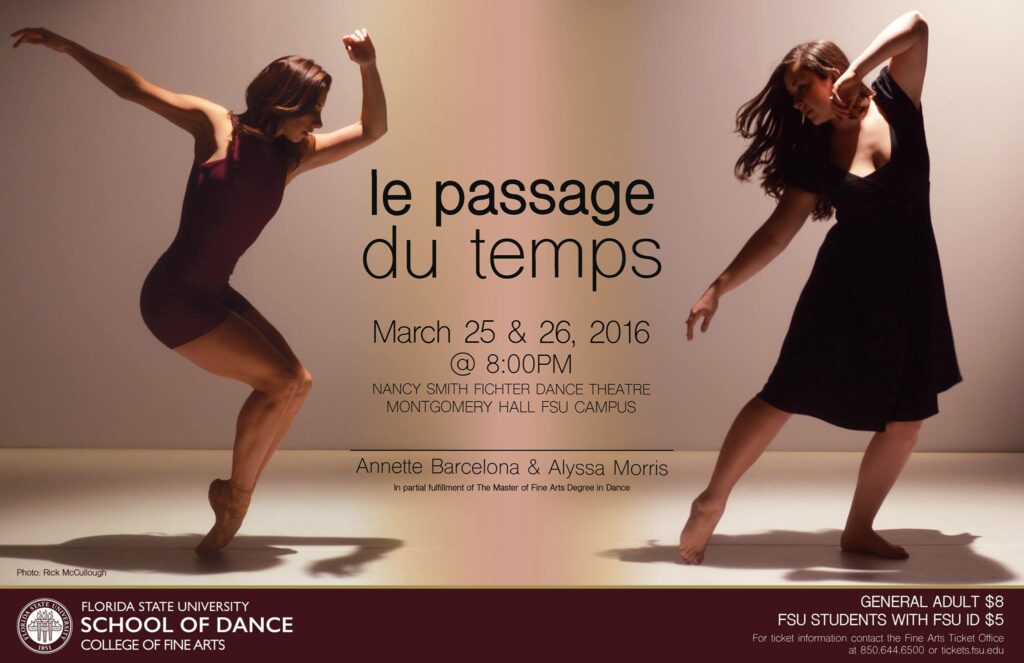 March 25 – 26, 2016 at 8:00 p.m
Florida State University's School of Dance will present LE PASSAGE DU TEMPS, (the passage of time), the final MFA concert of the current season on March 25-26, 2016 at 8:00pm in the Nancy Smith Fichter Dance Theatre in Montgomery Hall, located on FSU's campus. MFA candidates, Annette Barcelona and Alyssa Morris will feature their work as partial fulfillment for the Master's of Fine Arts Degree in Dance.
Annette Barcelona presents three ballet works illustrating 'the passage of time' through the evolution of Ballet: from its Romantic roots, through its twentieth century Neoclassical surge and into the current Contemporary landscape. The first work Voyage pour l'amour, is inspired by the 19th century Romantic Ballet era and is set to the music of Ludwig van Beethoven. The work visually echoes the aesthetic of Romantic Ballet, yet offers an updated, modern narrative. Suzanne Farrell, an FSU Francis Eppes Professor, re-staged the second neoclassical work on Barcelona, Elegie, a solo originally choreographed by George Balanchine in 1982. Reflecting on her experience with Farrell, "She was so generous and open to sharing the memory of her experiences working with George Balanchine on this piece." The significance of the work has allowed Barcelona to tap into the embodied history of the piece, being the last solo Balanchine made for Farrell months before he passed away. With Farrell being one of his greatest muses, Barcelona will continue to cherish the time learning and growing with Farrell's guidance. Mihai Razvan Berindean, a violist and current FSU doctoral student from the College of Music, will perform the Igor Stravinsky score live. The final work, [Collide]oscope, features Barcelona's unique contemporary tutu design and is set to a heart thumping score by Trent Reznor and Atticus Ross. The work portrays Barcelona's choreographic investigation aiming to break traditional Ballet boundaries by combining Modern Dance influences and approaches. Barcelona, and the FSU School of Dance, is proud to present [Collide]oscope at the 2016 American College Dance Association Conference this March.
Portal, a video dance by Alyssa Morris, delves into the complex nature of social isolation via cinematic narration techniques. The viewer is transported on a journey through the video's central female character, who encounters complexities of isolation and self-exile on three various levels: in relationships, in society, and in social media. As the video progresses, the girl travels through the portal, which propels her through time and space. Along her travels, she confronts these forms of isolation as the audience witnesses her growth along the way. The arts of cinematography and dance join together, molding a unique and revealing choreographic partnership and exploring themes of loneliness in a premiere video dance. In the spirit of video dance partnership, Alyssa Morris will hold a public, pre-show discussion in Studio 216 (Montgomery Hall), prior to both evening shows, beginning at 7:15pm. Alyssa will dialogue her thesis research, and expound upon the growing, cutting edge field of video dance.
Do not miss this exciting evening of dance featuring live performance, music and cinematography that is surely to entertain and be enjoyed by all!
For ticket information, contact the Fine Arts Tickets Office at 850.644.6500 or online at www.ticket.fsu.edu. For more information, call Joyce Fausone at 850.645.2449 or contact via email at jfausone@fsu.edu, or check online at dance.fsu.edu. The School of Dance is within the College of Fine Arts at Florida State University.