Home
»
News

»
School of Dance Professor Gwen Welliver Choreographs "An Opera That Springs From China but Laps Distant Shores"
School of Dance Professor Gwen Welliver Choreographs "An Opera That Springs From China but Laps Distant Shores"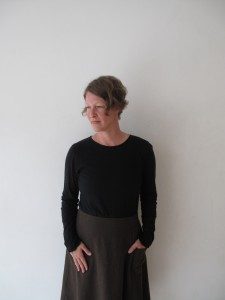 Assistant Professor Gwen Welliver of Florida State's School of Dance has taken on a project as the choreographer for a new opera, Paradise Interrupted. Professor Welliver is a Bessie Award-winning performer and has worked on opera productions at La Monnaie, Festival d'Aix, and Spoleto Festival USA 2015.  While choreographing Paradise Interrupted, Professor Welliver has had the honor of working with world-renowned composer Huang Ruo and artistic director Jennifer Wen Ma, who was chief designer for visual and special effects at the 2008 Beijing Olympics.
This production is an arresting new installation opera blending traditional classical Chinese idioms from the Ming Dynasty with Western operatic traditions. Based on a scene from the 1598 Kunqu or Kun opera The Peony Pavilion, Paradise Interrupted opens with a woman alone on stage. She meets her lover in an erotic dream, which triggers a passionate search for an unattainable ideal through a lush, interactive garden grown from dynamic paper sculptures. The romance soon becomes an empowering tale of self-actualization.
The main protagonist for this one-act opera which was created for her by the director and visual designer Jennifer Wen Ma and the composer Huang Ruo was Qian Yi.
Ms. Qian (pronounced Chen), now 41, rose quickly to super-stardom — albeit in a field few Westerners know — through her portrayal of the heroine in a landmark 19-hour production of the classic opera "The Peony Pavilion" that was a centerpiece of the Lincoln Center Festival in 1999 and then toured the world. Ms. Qian, who has since become something of a regular at the festival, has had starring roles in "The Orphan of Zhao" (2003) and "My Life as a Fairy Tale" (2005).
 For this role, Ms. Qian had to rethink her training from the ground up; she essentially had to learn new methods of both singing and acting.
"The challenge is to find my own voice," Ms. Qian said after a previous rehearsal .
 Ms. Qian had already taken a difficult step away from tradition in "The Peony Pavilion," where the American-based Chen Shi-Zheng's bold direction called for a degree of naturalism foreign to
kunqu
(pronounced kwin-CHU), which embraces not only song but also elaborate, flowing stylized dance. But Ms. Ma and Gwen Welliver, the "Paradise" choreographer, took Ms. Qian in another direction, introducing a certain angularity to her movements. And Mr. Huang's music carried her into terrain even less familiar. The pentatonic scale and subtle, lilting phrasings of kunqu gave way to a world of pitch and melody in which almost anything goes.
Even the seemingly simple matter of responding to the gestures of a conductor — though she also encountered it while performing in Stewart Wallace's "The Bonesetter's Daughter" at the San Francisco Opera in 2008 — posed problems. In kunqu, Ms. Qian took cues from the sounds of a drum and essentially went her own musical way at her own pace.
"Here you have to look for the conductor as you go through your movements," Ms. Qian said. "But in Chinese opera, you cannot look away. It's painful. It's weird."
The makers have called "Paradise Interrupted" an installation opera. The idea originated with Ms. Ma, 43, a visual designer best known for her work on the opening and closing ceremonies of the Beijing Olympics in 2008.
 In 2012, she installed a work,
"Hanging Garden in Ink,"
with plants painted black, based on the Hanging Gardens of Babylon, at the Ullens Center for Contemporary Art in Beijing. That was when she began thinking more broadly about gardens: the one where Du Liniang of "The Peony Pavilion" dreams of love, and the Garden of Eden.
Introduced to Ms. Qian's artistry by Lihe Xiao, a lighting designer now part of the "Paradise" creative team, Ms. Ma conceived a work set in a black garden made of huge, collapsible paper cutouts and she enlisted a young playwright, Ji Chao, to help develop a libretto reflecting Ms. Qian's background in kunqu opera.  Ms. Qian, in turn, introduced Ms. Ma to Mr. Huang and his music.
"The idea of a garden came first, before a note was written, before a word was written," Ms. Ma said. "The music informs the visual, but the visual led the text and the music."
Mr. Huang, 39, composer in residence for the Royal Concertgebouw Orchestra of Amsterdam and the National Symphony Orchestra of Taiwan, has projected a strong and versatile voice, reflecting both his Chinese origins and a vast range of experiences in the West.
"I use the word integration instead of fusion or collage," Mr. Huang said. "When I compose, I don't think about what sounds Eastern or what sounds Western, or how to put the two together. I simply write or sing in my own voice. In 'Paradise Interrupted,' although it has inspiration from the Chinese traditional kunqu opera, all the music, vocal and instrumental, is newly written."
Through it all, Ms. Qian is very grateful for this opportunity and the individuals she has had the pleasure of working with.
"These people have been holding my hand," she said of Ms. Ma and Mr. Huang, "leading me forward. They've given me a distorting mirror to look back at my own tradition, to see what I can learn, what I can provide."
New York Times Review:
The engrossing chamber opera "Paradise Interrupted" could easily have ended up a clichéd, cross-cultural mess. Opera has long been an art form that draws together music, poetry, theater, dance and other genres. But few works mingle different elements so ambitiously as "Paradise Interrupted," first performed at the Spoleto Festival USA last year. This production, at the Gerald W. Lynch Theater, was one of two works that opened the Lincoln Center Festival on Wednesday.
That this 80-minute opera proved so alluring and powerful is due largely to the inventive and personal music of its composer, Huang Ruo. The work was conceived by the director and visual designer Jennifer Wen Ma, who won international attention for her central role in creating the opening and closing ceremonies of the Beijing Olympics. The opera's libretto fuses contrasting stories: the biblical tale of the expulsion from the Garden of Eden, and a story line from the Chinese kunqu drama "The Peony Pavilion,"a multipart, 19-hour epic. That sequence recounts the emotional journey of a woman who awakes from a dream of an idealized romance. The libretto combines Mandarin, modified Mandarin and invented words and sounds.