School of Dance Recognizes Retiring Professor Rick McCullough
During this year's Days of Dance performances, the School of Dance recognized the many artistic talents of its faculty and students, but also celebrated the career of retiring Professor Rick McCullough. McCullough served as the Artistic Director for this year's concert as well as presented his final choreographic work as a faculty member. He created a new work titled Voices, which uses music by The Mystery of Bulgarian Voices Choir an award-winning women's choir which specializes in a cappella traditional and contemporary Bulgarian folk music.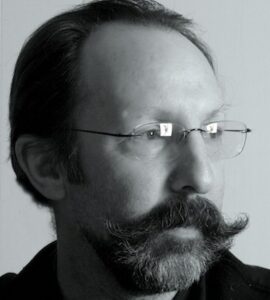 McCullough began his early dance training at the North Carolina School for the Arts and the School of American Ballet. Professionally, he danced with North Carolina Dance Theatre and the Harkness Ballet before joining Netherlands Dance Theatre (NDT) in 1975. He spent ten years performing around the world with NDT under the direction of world renowned choreographer Jiří Kylián. After retiring from performing professionally, McCullough earned a B.F.A. from North Carolina School of the Arts and later an M.F.A. from the University of North Carolina at Greensboro. He has served as the Ballet Master for the Pittsburgh Ballet, an Assistant Professor at the University of North Carolina at Greensboro, and Director of the North Carolina School of the Arts Summer Festival Evening of Dance. In 2004, he completed an associate arts degree in Photographic Technology and apprenticed with photographers Lois Greenfield and Eduardo Patino in New York City.
His dance photography has been published in Dance Magazine, Dance Magazine of Florida, Eliza Minen's "The Ballet Companion", and Dr. Tom Welsh's "Conditioning for Dancers". As a choreographer, McCullough has received fellowships from the National Endowment for the Arts, the Florida Division of Cultural Affairs, the National Choreographers' Initiative, the North Carolina Arts Council, and the Pennsylvania Arts Council. He received second prize at the Tokyo International Choreography Competition in 1991 and a gold medal at the Boston International Choreography Competition in 1990. His work has been commissioned by the Washington Ballet, Pittsburgh Ballet Theatre, North Carolina Dance Theater, Ballet Pacifica, Pacific Northwest Ballet, Columbia Classical Ballet, School of American Ballet, Chautauqua Institution, Perry-Mansfield Performing Arts Camp, and the North Carolina School of the Arts, among others.
McCullough joined the faculty at the Florida State University School of Dance in 2004. A few of the courses he has taught include Ballet Technique, Partnering, Repertoire, Dance Photography, and Theory and Practice in Dance Technique. During his tenure at FSU he has choreographed many works and has given his time and talent to photograph many dance students for their portfolios. He served as the Artistic Director of the Tallahassee Ballet from 2009-2013, and has taught for many years at School of Dance's Summer Intensive and Workshop for Young Dancers. McCullough has been married for 45 years to fellow dancer Susan McKee McCullough with whom he has two lovely daughters and is now the proud grandfather of two beautiful granddaughters.