MANCC Artist Camille A. Brown works with School of Dance Alum Shamar Watt and Indira Goodwine
School of Dance alumni, Shamar Watt and Indira Goodwine, return to FSU this week with Maggie Allesee National Center for Choreography (MANCC) artist Camille A. Brown, who is in residence to develop ink. Shamar graduated with a BFA from FSU in 2015 and has worked with artists such as Nora Chipaumire and Cynthia Oliver. Indira, a 2011 MFA graduate, now serves as Managing Director for Camille A. Brown and Dancers.
Please join MANCC and dance faculty, Kehinde Ishangi, to hear about their time at FSU, work in the field, and much more!
Wednesday, November 30th
9:30am – 10:30am
Conference Room 124
Please bring breakfast and come with questions! Email your RSVP to mancc.kyber@gmail.org.
---
Shamar Watt
Performer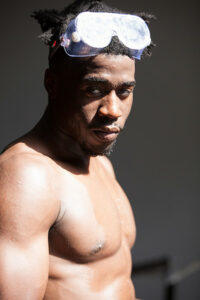 Born in Kingston, Jamaica, raised in Jamaica and Miami, FL. He has been involved with sports for most of his life. He started dabbling with freestyle hip hop and dancing in his home church during his later years of high school. Shamar was introduced to the arts through theatre; he started his dance technique training at Miami Dade College under the direction of Michelle Grant-Murray, where he was introduced to West African, modern, and ballet. Before transferring to Florida State University, he received his Associates degree in Psychology, and then graduated from Florida State University with his BFA in Dance and BA in Psychology. Shamar has worked extensively with artist such as Jawole Zollar, Ronald K. Brown, Netta Yerushalmy, John Jasperse, presently working with Nora Chipaumire, Cynthia Oliver, Camille A. Brown, Netta Yerushalmy, and with his own work.
Shamar recently received the Dancing While Black Fellowship 2015-2016, and a MANCC scholarship to go to Senegal to further his studies/research with world renowned Nora Chipaumire. Shamar travels regularly to Zimbabwe as Nora Chipaumire's assistant in developing the nhaka studies/research/practice. He has been invited to present his work at BAX, SLI directed and coordinated by Jawole Zollar/UBW, and at the National Sawdust in collaboration with cellist Kelsey Lu.
As an artist, Shamar is driven to create art through the pursuit, dedication and declaration to the emancipation and liberation of the whole self-mind, body and soul for himself, his people and all for mankind.
---
Indira Goodwine
Camille A. Brown & Dancers, Managing Director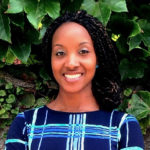 Born and raised in Queens, NY, Indira Goodwine is an arts administrator committed to using art as a form of activism to educate, inspire, and service diverse communities. She has been the Company Manager for CABD since 2012 and transitioned into the role of the first Managing Director for the company in August 2016. In her new role, she is responsible for Board leadership and nonprofit incorporation and oversight, fiscal management and overall administration of the company and management of all consultants and administrators. Her professional career in arts administration began as intern at Harlem Stage in 2011 and she completed her work there in July 2016 as General Management Associate.
Ms. Goodwine has participated in notable programs, such as the American Express Leadership Academy and Dance/USA's DILT Program. She was on the 2006 list of Who's Who Among Students in American Universities and Colleges, the 2008 Humanitarian of the Year for The College of Visual Arts, Theater and Dance at The Florida State University, and has received other awards and scholarships in her dance, academic, and professional career.
As a performer, she has had the opportunity to perform works by Camille A. Brown, Earl Mosley, Jawole Willa Jo Zollar, Millicent Johnnie, Toni Renee Johnson, Shani Collins-Achille, Shouze Ma, Tamara LaDonna Williams, and Troy Powell, among others. She received her M.A. in Performing Arts Administration from New York University and a BFA in Dance Performance from The Florida State University where she graduated Magna Cum Laude.

The Maggie Allesee National Center for Choreography (MANCC), at the FSU School of Dance, is a choreographic
research and development center whose mission is to raise the value of the creative process in dance.