School of Theatre Alumni Steven Sears New Book Release
Florida State University would like to congratulate alumni Steven Sears on the release of his new book The Non-User-Friendly Guide For Aspiring TV Writers: Experience and Advice From the Trenches (Million Dollar Writing Series). Steven has been an active FSU alumni for over thirty-four years and is an active member of the FSU Film School Producers Guild and Los Angeles Alumni. Steven L. Sears has had a successful career in film and television encompassing over thirty years of involvement at all levels.
Steven Sears earned his B.A. in Theatre in 1980. His first "professional" entry into entertainment was as a 13-year-old actor in the Florida State Play, "Cross and Sword,". This interest continued throughout his high school career and during his time at both Florida State University and the University of Florida.  After graduating with a B.A. (cum laude) degree in Theatre, Sears moved to Los Angeles to begin his career as an actor.  On advice from a casting director, he decided to write a script. One year later he was on the writing staff of Riptide, a television series for NBC. Since then he has gone on to write, story edit and produce a variety of shows including Stingray, The A-Team, JJ Starbuck,  The Highwayman, Father Dowling Mysteries, Swamp Thing and Raven. He has also written for shows such as Hardcastle & McCormick, Superboy, The Hollywood Detective, Jesse Hawkes, Hardball, Grandslam, Walker-Texas Ranger, as well as television pilots, features, interactive and animation. He was the Executive Producer on the feature The Last Perfect Wave, the Co-Executive Producer of the hit syndicated Series Xena-Warrior Princess, and the Co-Creator and Executive Producer of the Columbia/TriStar Television Series Sheena.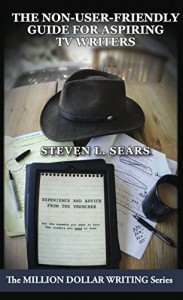 Through his work with  major studios and production companies, he has amassed a huge amount of experience and knowledge about the inner workings of the entertainment industry. In his new book, The Non-User-Friendly Guide for Aspiring TV Writers, published on September 22, 2014, Sears shares that experience and gives advice for those considering a career in television writing. Instead of the traditional academic and sterile approach, Sears answers questions from a personal, first-person perspective. These questions have been culled from the real world, people seeking out his advice and looking for the experience that most books don't have. Some of what he writes about are hard and difficult facts to accept about the business, while other times he gives his opinion based on extensive experience. All of it is unsweetened and direct. Even if you don't like his answers, Sears will certainly make you think hard about your approach and choices when pursuing a career in an extremely difficult Industry. The Non-User-Friendly Guide For Aspiring TV Writers: Experience and Advice From the Trenches (Million Dollar Writing Series) is available for purchase on kindle as well as paperback through Amazon.
For more information on Steven Sears please visit The St. Augustine Record, and The School of Theatre Alumni pages. For more information about  The Non-User-Friendly Guide For Aspiring TV Writers please visit Amazon.