School of Theatre Presents a Production of Cabaret this November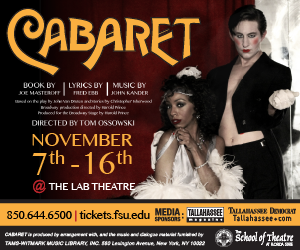 The School of Theatre at Florida State University proudly presents a production of Cabaret this November! The cast invites you to the famous burlesque Kit Kat Klub, located in Berlin as the 1920s are drawing to a close. The world outside is becoming increasingly unstable as the Nazi Party gains power, but this debaucherous and colorful crew continues to take the stage nightly, encouraging their clientele, and themselves, to leave their worries at the door and forget what is outside.
Director and School of Theatre Faculty member Tom Ossowski is thrilled to present one of the most beloved and often revived shows in the Musical Theatre canon. He discusses the authenticity and appeal of his artistic approach to this production, saying, "It is a story that everyone can relate to – we all have hopes and dreams, but we all struggle with denial and illusion."
Cabaret made its Broadway debut on November 20, 1966, starring Joel Grey as The Emcee. Since 1966, Cabaret has gone through three revivals, the most recent opening in April 2014, starring Alan Cumming as the Emcee and Michelle Williams as Sally Bowles.
Don't miss The School of Theatre's production of Cabaret playing at the Lab Theatre November 7 – 16!
To see other School of Theatre productions this season and purchase tickets click here.
Photos by Ashley Wright at the School of Theatre at Florida State  — courtesy of Facebook