Students, Faculty, and Staff Participate in Peace Paper Project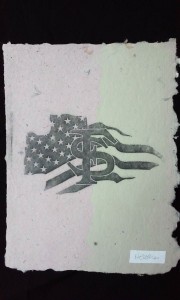 Departments of Art, Art Education, and Art Therapy students recently collaborated with student veterans on an international art initiative called Peace Paper Project, which uses traditional papermaking as a form of therapy and personal storytelling.
The workshop, titled Julian's Creative Arts Workshop in memory of local service member Julian McMackin, was held in the Florida State University Printmaking Lab. Students, faculty, and staff helped veterans student veterans make paper out of military uniforms, which was then used as the foundation for photographs, images, and text. Veterans often combine these with imagery from their military experience. The tradition of turning clothing into paper is almost 2000 years old, and Peace Paper Project has administered over 200 workshops all over the world.
The project website describes the process like this:
"Peace Paper Project uses the ancient tradition of hand paper making as a vehicle for personal expression and cultural change. Because of our innovations in portability and our interest in resolving current social issues, paper is no longer just a chapter in a history textbook; it has become a beacon for socially engaged art. The process of making paper is a direct manifestation of resilience, as it requires breaking something down in order to create something new and beautiful."
The workshop was led by Drew Matott, cofounder of Combat Paper Project and Peace Paper Project. This year he will be giving a workshop called Papermaking as Personal Expression on November 7th and 8th, 2015 at FSU's Small Craft Advisory Press in the Facility for Arts Research. To sign up, register online here by October 1, 2015. For more information, contact AB Gorham at agorham@fsu.edu.
Photos courtesy of Sarah Gladwin