Two Exciting Courses with MK Haley Entrepreneur in Residence
Two New Courses with MK Haley, Walt Disney Imagineer
REGISTER NOW FOR FALL! 
Interaction and Advocacy for the National High Magnetic Field Laboratory  
STUDIO COURSE – [ART 4929C, Section 5]
The National High Magnetic Field Laboratory is the only one of its kind in the country. Hosting researchers from all over the world conducting experiments on highly specialized equipment, yet with broad applications across a wide range of disciplines, from physics, materials science, chemistry, biochemistry, biology and biomedicine. The lab also designs and fabricates a wide range of magnets for in-house and global research endeavors. In what ways can we create engaging, educational, fun, and scientifically accurate experiences that communicate these goals and achievements to a wide range of Lab guests, from grade schoolers to scholars? This class will focus on the interactive experiences that share the joy of creation and groundbreaking projects the lab is tackling every day. It could be games, it could be stand-alone experiences, it could be analogue or digital. We will brainstorm and design it together! This class will have a heavy production component, will require quite a bit of research, as well as adherence to client needs and preferences.
Apply now! It's easy – just submit a simple, one–paragraph statement of interest to lhogan@admin.fsu.edu.
CREATING EXPERIENCES – Open to all majors! [ART 4930C, Section 2]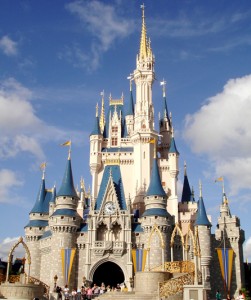 experiential design, from large scale highly themed experiences, such as a museum visit or theme park trip, to everyday interactions, such as stop at a coffee shop or gym. Why does magic feel magical? Why do Haunted Houses scare us and why do we want to be scared? What about the DMV could really use a make-over, and why? Class will focus on the necessary collaboration across disciplines for success in the field, the "human" part of all experiences, and will include individual evaluation of a variety of scenarios as well as original proposals / designs of visitor experiences. Facets of storytelling, teamwork, research, human behavior, presentation skills, peer-review, and out of class explorations will all be part of the curriculum. Register through the normal process or contact your advisor.
Instructor Information
MK Haley
20 years as a Walt Disney Imagineer
M.F.A., California State University
Areas of expertise include digital media, digital technology, entertainment      technology,experiential design, virtual reality
Co-Director of the Carnegie Mellon University's Entertainment Technology Center