Susan Baldino: Musuem as Advocate for Social Inclusion
Article courtesy of the Tallahassee Democrat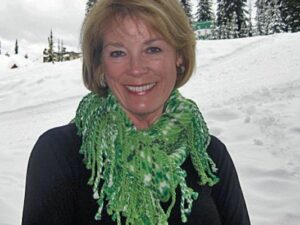 A captivating canvas of a crashing wave lures viewers to the exhibition What Forever Feels Like: Artists and Autism. The large-scale virtuosic work could be shown in any gallery as an example of contemporary abstract realism, but it is the featured work in a show that embraces artists on the autism spectrum who are not typically represented in a museum.
The creator of the stunning coastal scene, Pensacola artist Mikaela Sheldt, describes her personal intersection of art and autism:
I never wanted to be an artist. I wanted a life derived from practice, reason and logical theory.
The art community is a nuanced, social and subjective chameleon. As a person with Asperger's Syndrome, I tried my best to avoid it. However, my studio is the one place where I can cease to be a person with Asperger's Syndrome, and I am only Mikaela.
I may never integrate with the chameleon world outside my studio, but I make beautiful works of art and they do all the talking for me.
For artists with autism, some of whom are non-verbal and most unable to easily interact, art is an extraordinary vehicle of communication.
And now, museums are called upon to include people like these artists who may not be understood or who have been disadvantaged. Museums are tasked with the fight against marginalization, exclusion and prejudice.
No longer mere storehouses of collections and shrines to art; museums must prove their worthiness by making positive impacts on communities. They make these impacts through wide-ranging learning programs and outreach to constituencies. They are valued partners in education for both school children and lifelong learners. They not only display objects, they present interpretive programming for all ages and abilities. Many museums are dropping elitist trappings to become accessible and democratic, welcoming diverse groups who heretofore had not frequented their exhibitions, lectures, gallery tours and concerts.
And, as evidenced in the exhibition What Forever Feels Like, there are more profound benefits that museums can offer to individuals, regions and society at large. Museums can take on the mantle of social responsibility. They can open eyes to those who have little or no knowledge of different abilities, and they can open doors to artists who have never been included because of their unusual abilities. Above all, museums can get us talking about difference and how it is manifested in humankind.
Such is the case with What Forever Feels Like. With this exhibition, museum visitors may begin to realize the creative talents of individuals who struggle in their daily lives to communicate, but who can use brush and pigment to expose us to the wonder and resonance of autism.
We should celebrate these artists and the museums that have become proactive in a worldwide struggle for inclusion and human rights.
What Forever Feels Like: Artists and Autism is currently showing at the Florida State University Museum of Fine Arts through November 16, 2014. Daily hours are Monday-Friday, 9:00 a.m. to 4:00 p.m. and Saturday and Sunday, from 1:00 p.m. to 4:00 p.m.
Susan Baldino teaches courses in Museum Studies at FSU.