The College of Fine Arts becomes the first certified "Green" College at FSU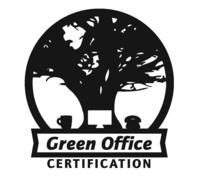 The College of Fine Arts is pleased to announce that all of our units have been officially certified as Green Offices by Florida State University's Office of Sustainability, making CFA the first completely certified college in the University.
The certification was completed by leadership and staff in each of our eleven academic and non-academic units. Each department analyzed their operations to ensure that their procedures and practices are aligned with sustainable practices, and learned about new ways to incorporate "green practices" into the everyday work environment. In order to be certified, offices are asked to adopt multiple initiatives in three primary categories: energy conservation, waste reduction, and recycling. Offices are also expected to consider and implement sustainable practices relating to purchasing, travel, special events, and information technology. Because our units are already focused on efficiency, staff found that many best practices were already a part of the way we do business.  Achieving certification was a great way to recognize the ways the College of Fine Arts already prioritizes resource conservation and cost savings.
Specific ideas implemented within the College include:
Eliminating electronic equipment when not used regularly
Using power strips as central turn-off points, and turning power strips off at night
Converting to e-filing systems whenever possible to reduce copying and paper transmission of information
Implementing printing limits at central printers, and reducing or eliminating personal desktop printers
Distributing ballots, memos, journals, invitations, and other communications electronically when possible
Re-using furniture within the College and through FSU Surplus whenever possible
Setting printer defaults to double-sided
Purchasing recycled office supplies & recycled content paper
Combining purchasing orders to reduce packaging
Eliminating the purchasing of single-use water bottles
Thanks to each office for their commitment to sustainability, and congratulations on achieving certification!
CFA Green Office Liaisons 
FSU Green Office Coordinator,
Caitlin DeJong
Department of Art,
Rebekah Elliott
Department of Art Education, 
Heather Forlong
Department of Art History, 
Sheri Patton
Department of Interior Architecture + Design, 
Deb Alexander
School of Dance,  
Anna Singleton
School of Theatre,  
Lauren Snyder
The Ringling,
Gussie Haeffner
FSU/Asolo Conservatory,  
Debi Schalch
/
June Dollar
Museum of Fine Arts,
Jean Young
Office of the Dean,
Elizabeth Major
/
Cassandra Rayne Gross