The College of Fine Arts: Kent Reilly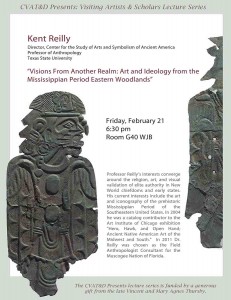 On Friday, February 21, Professor Kent Reilly of Texas State University will present a public lecture at 6:30 pm in Room G40 WJB: "Visions From Another Realm: Art and Ideology from the Mississippian Period Eastern Woodlands," as part of the College of Fine Arts Presents visiting scholar lecture series.  Reilly is a Professor of Anthropology and the Director of the Center for the Study of Arts and Symbolism of Ancient America.  His interests converge around the religion, art, and visual validation of elite authority in New World chiefdoms and early states. His current interests include the art and iconography of the prehistoric Mississippian Period of the Southeastern United States. In 2011 Dr. Reilly was chosen as the Field Anthropologist Consultant for the Muscogee Nation of Florida.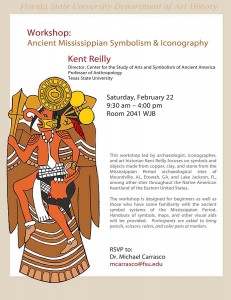 On Saturday, February 22 (9:30 am to 4 pm), Dr. Reilly will lead a workshop in Room 2041 WJB on Ancient Mississippian Symbolism & Iconography.  This workshop will focus on symbols and objects made from copper, clay, and stone from the Mississippian Period archaeological sites of Moundville, AL, Etowah, GA, and Lake Jackson, FL, among other sites throughout the Native American heartland of the Eastern United States.  The workshop is designed for beginners as well as those who have some familiarity with the ancient symbol systems of the Mississippian Period. Handouts of symbols, maps, and other visual aids will be provided.  Participants are asked to bring pencils, scissors, rulers, and color pens or markers.   Please RSVP for the workshop to Dr. Michael Carrasco.
The CFA lecture series is funded by a generous gift from the late Vincent and Mary Agnes Thursby.  Information about previous and upcoming lectures in the series can be found here.