The Dahl, Lottie & William Lee Pryor Drawing Room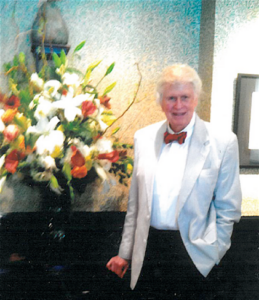 William Daniel Lee Pryor (1926 – 2015) was born in Lakeland, Florida; the only child of Dahl and Lottie Pryor. He had an extensive education, starting with a BA from Florida Southern College (1949), a MA and a PhD from Florida State University (1950, 1959), and a Postgraduate degree from the University of North Carolina (1952 – 1953). After graduation, Dr. Pryor moved to Houston, Texas where he taught English as a full professor at the University of Houston.
Dr. Pryor was an amazing storyteller and orator. He created a television/radio show called The Arts of Houston. He also worked as an editor for Forum, the University of Houston's literary magazine, for 15 years.  Although he worked in many different facilities and programs, at the University of Houston, his favorite room was the classroom. Dr. Pryor wrote in his autobiography in Who's Who in America: "My commitment is to the humanities. I believe that the most important thing a teacher can do is to help a student stand on his/her own intellectual legs." He received the Recipient Master Teaching award in 1980, and the Favorite Professor award in 1991 at the University of Houston.
Pryor's love of education led him to include a gift to Florida State University in his will to benefit student scholarships in English and Music, as well as one special gift to the FSU Museum of Fine Arts.
In honor of his parents, Pryor donated his extensive collection of paintings, tapestries, etchings and drawings to FSU. The Dahl, Lottie & William Lee Pryor Drawing Room in the Longmire Building at Florida State University now houses all of these unique objects that Dr. Pryor spent his lifetime collecting. Dr. Pryor's gift of the Drawing Room creates a legacy of visual enrichment for both academic and recreational pursuits that will be enjoyed by faculty and students for decades to come.
---
Make a Donation
To make a gift online to the Museum of Fine Arts, please click the Give button above and choose "Museum of Fine Arts" in the Designation Drop-down menu. Please mail checks, made payable to "FSU Foundation," to the address below.
To discuss a gift to the College of Fine Arts at Florida State University, please contact:
Jessica Comas
Director of Development
FSU College of Fine Arts
236 Fine Arts Building
Tallahassee, FL 32306-1170
(850) 645-0701
jcomas@fsu.edu