The Museum of Fine Arts Announces New Offerings for the Fall Semester
The
Museum of Fine Arts
knows it's mid-summer … but look what's coming up in the Fall! While we won't let go of the joys of Summer just yet, the Museum is planning ahead with new offerings for the Fall semester.
Our wild card is always the Tallahassee International. We can never predict who will submit what or what they will submit and this year's selections have surprised even MoFA. Let there be light and color and narrative and abstraction and every variety of media. The 2017 jurors from the Department of Art were Carrie Ann Baade, Associate Professor (painting and drawing), J. Chalet Comellas, Assistant Teaching Professor (contemporary art) and Terri Lindbloom, Professor (sculpture, installation, performance, experimental drawing).
To make a good contrast with the International showing on the upper level of MoFA, the lower level will host favorites from the Permanent Collection as well as highlighting the work done by Art History students of Museums and Cultural Heritage Studies. Doctoral candidate Gabriela Germana Roquez orchestrated an investigation of the Pre-Columbian collections housed at MoFA and the result is a focus on Nazca pottery and other works.
Changing direction in October, MoFA's upper level will be given over to Trevor Bell's chromatic 125-foot painting Southern Light that will be a dream "studio" for the students working with Rodger Belman of the Dance Department to invent new choreography and host performances and lecture-demonstrations during the installation.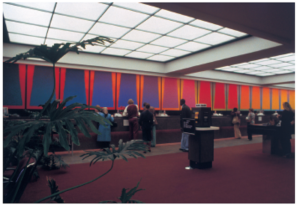 On the lower level, the fantastic imagination and graphic sensibilities of Aubrey Beardsley are represented by selections from the collection of Patrick M. Rowe. Dr. Rowe has shared with us before (WWII artifacts, Alphonse Mucha, Hokusal, and Daumier prints) and each new exhibition venture is an impeccable historic collection presented for visitors.
The semester will end with Graduating Artists and the traditional Art & Antiques Fair. We do hope this line-up will entice everyone to visit us often.
Events
Aug. 28-Oct. 1
The Tallahassee International 2017, Coordinated by Jean Young
Carter Collection Selections "Visions of the Nazca: The Evolution of Painted Images in an Ancient Andean Society," curated by Gabriela Germana Roquez, Fulbright Fellow, PhD candidate, Art History, and researched by students in her Museums and Cultural Heritage Studies class
Oct. 13-Nov. 19
Bell & Belman: Trevor Bell's Southern Light and Rodger Belman (Dance Department); performances and choregraphic sketching in the galleries
Aubrey Beardsley: The Aesthetics of Decadence and the Line Block Print. Collection of Patrick M. Rowe
Nov. 17- Dec. 14
Dec. 1-2
Art & Antiques Fair with Artists' League Crafts Expo