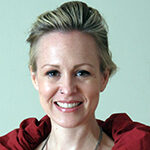 Carrie Ann Baade is known for rich allegorical meta-narratives oil paintings. These painted parables combine remnants of Renaissance and Baroque paintings, creating surreal landscapes inhabited by exotic flora, fauna, and figures.
As a contemporary painter, she returns to the relevant moments in art history in order to reclaim them, not merely as a quotation of a theme or an image, but also as the materiality of methods and techniques that ultimately create them.As a native born Louisianan, Carrie Ann Baade has deep southern roots but she has traveled and studied painting history & techniques around the world. Since moving to Tallahassee in 2006 she has continued to actively exhibit nationally and internationally.
Baade was awarded the Florida Division of Cultural Affairs Individual Artist Fellowship in 2010, the Delaware Division of the Arts Fellowship for Established Artist in 2005, and was nominated for the prestigious United States Artist Fellowship in 2006 and the Joan Mitchell Grant in 2012. Her work has been exhibited in museums and galleries nationally and internationally, including recent solo exhibitions: the Delaware Center for Contemporary Art, the Rosenfeld Gallery in Philadelphia, Billy Shire Fine Arts in Los Angeles, the Ningbo Art Museum in China, and the Museum of Contemporary Art in Jacksonville, Florida.
She received her Masters in Painting from the University of Delaware and her BFA from the School of the Art Institute of Chicago that included one year of study at the Florence Academy of Art in Italy. The NY ARTS Magazine, the Philadelphia Inquirer, Austin Chronicle, the Albuquerque Journal, and Philadelphia Today have reviewed her work. She currently lives and works in Tallahassee where she is an Associate Professor of Painting and Drawing at Florida State University.

A lifetime of travel and study gives Ray Burggraf's work a rich, universal perspective.  He was born in Ohio in 1938, a time when powerful changes were transforming rural America. Burggraf grew up on an Ohio farm and then attended the Cleveland Institute of Art where he worked with painters influenced by the German Bauhaus movement of the 30's and Op Art of the 60's that helped shape his artistic style. He received the BFA degree in 1968.
From Cleveland, Ray went to California and UC Berkeley where he developed his interest in Bauhaus style color theory and gradations of color, encouraged by the unique California sunlight. He received both the MA and MFA degrees from Berkeley in 1970.
Arriving in Florida, Ray taught painting and color theory at Florida State University. After 37 years, he retired to Professor Emeritus status in 2007. He continues to paint and exhibit his work and maintains a studio in the popular Railroad Square Art Park. His work continues to reflect a farmer's affinity for the land, a Californian's appreciation of light and color, and a Floridian's experience of atmospheric and oceanic moods.
For more information: Ray's biography can be found on Wikipedia. Examples of his recent national public art projects are at FSU in the Student Life Center, the Student Wellness Center and the New Psychology Building. He is also listed in The New Encyclopedia of Southern Culture, Volume 21: Art, by Judith H. Bonner, UNC Press, 2013, as "contributing to our understanding of southern landscape."
Website: rayburggraf.com
Ray Burggraf, Three Dualities, 2015, acrylic on wood with bar code, colored lights and motorized suspended unit, 87 x 84 inches.
---
Lilian Garcia-Roig


Born in Havana, Cuba in 1966, she was raised and worked in Texas for 30 years, but for the past 13 years has lived and worked in Tallahassee, Florida. Her latest works feature large-scale on-site painting installations of dense landscapes that overwhelm the viewer's perceptual senses. Each individual painting is created over the course of the day in an intense wet-on-wet cumulative manner that underscores the complex nature of trying to capture first-hand the multidimensional and ever-changing experience of being in that specific location. Her works are as much about the materiality of the paint and the physicality of the painting process as they are about mixing and mashing the illusionist possibilities of painting with its true abstract nature.
She has shown nationally at such places as the Americas Society Gallery in NYC, the National Museum of Women in the Arts and the Art Museum of the Americas, both in Washington DC and extensively in the south, especially in Texas and Florida. Internationally, she has shown at the Chopo Museum in Mexico City and Byblos Art Gallery in Verona, Italy.
Her MFA is from the University of Pennsylvania (1990) and her BFA is from Southern Methodist University (1988). From 1991 to 2000 she was a tenured Associate Professor of Studio Art at the University of Texas at Austin and in 2001 was a Visiting Associate Professor at the University of California at Berkeley in the Department of Art Practice before deciding to move to Tallahassee where she became the Director of Graduate Studies in Studio Art from 2002-2008. She is currently a professor at Florida State University where she serves as the Painting and Drawing Area Head.
Major awards include a Joan Mitchell Foundation Award in Painting, a Mid-America Arts Alliance/NEA Fellowship Award in Painting, State of Florida Individual Artist Fellowship Award in painting & a Kimbrough Award from the Dallas Museum of Art. Residencies include a Skowhegan School of Painting and Sculpture Fellowship, Vermont Studio Center Artists Fellowship, MacDowell Colony Milton & Sally Avery Fellowship and a visiting artist at the Ludwig Foundation in Havana, Cuba.
Website: liliangarcia-roig.com
Lilian Garcia-Roig, Hyperbolic Nature: La Florida, 12 x 13 feet, from the show Sight Specific at the MAC in Dallas, 2013.
---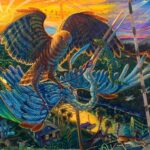 Mark Messersmith
Mark Messersmith originally from St Louis, was struck when he arrived in Tallahassee, 30 years ago, by the wild nature that exists in Florida, even though it has become somewhat fragmented. He became fascinated with exploring the point of tension between the exotic world, and the intrusive human presence that continues to destroy it. His work explores themes of spirit and struggle within modern Florida's "natural environment." It is about the lands and creatures which still manage to survive, though often in small isolated natural habitats and the effects of inevitable forced migration, dislocation and destruction of most of Florida's once rich and unique flora and fauna.
His works also references and dialogs with an artistic linage of American landscape painting from the late nineteenth century (painters like Heade, Inness, Moran & Homer) who came to the South east after the Civil War.  They came with, and often painted romantic visions of this exotic southern landscape. Though they looked at this world as artists with some scientific curiosity and concerns, they still managed to view and paint it through the field glasses of dreamy romantics.
In his 30 years of living in Florida and teaching at FSU, he has shown extensively in the southeast and has had his paintings exhibited in Canada, Italy and France. Recent selected solo museum exhibitions include, Huntsville Museum of Art, Ogden Museum of Southern Art, Frost Art Museum, Art Museum of Southeast Texas, Appleton Museum of Art and Polk Museum of Art. Awards include the Joan Mitchell Foundation Painting Award, Florida Department of State, Division of Cultural Affairs, Individual Artist Fellowship Awards and two National Endowment for the Arts/Southern Arts Federation, Regional Fellowship Awards for Emerging Visual Artists, Ford Foundation Artist Fellowships and a purchase award from the Le Grande Prix, XXXIII Festival International de la Peinture, Cagnes-sur-Mer, France.
Website: markmessersmith.com
---
Judy Rushin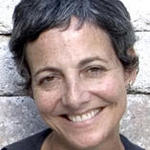 In 2008 Judy Rushin began making modular paintings that could be packed in standard boxes because it had become too expensive to ship large, crated canvases to exhibitions. This response to a practical problem provided the conceptual framework for my current work, which is a visual contemplation on contemporary mobility and what it brings to bear on culture.
Seen individually, the paintings are the tools and materials for creating the ongoing work. They are parts of a flexible system that allows a single body of paintings to take on an infinite number of formations, both large and small. She has exhibited them as freestanding walls, floors, and walls that lean against existing structures. Each painting embodies simplicity, but is the result of a labor-intensive process.
Rushin's paintings and installations have been seen by thousands of people in museums, galleries, front yards, and other alternative environments across the U.S. Her most recent exhibitions include The Ulrich Museum, Wichita; Terrain Projects, Chicago; Threewalls Project Space, Chicago; The Orlando Museum of Art; Alexander Brest Museum, Jacksonville; Flashpoint Gallery, Washington DC; Kiang, Atlanta; Co-Lab Projects, Austin. Her interactive project Variance Invariance traveled to individuals who engaged her paintings on their own terms and turf, and then traveled back, bearing the imprint and detritus of the places it has been. She has been featured in Burnaway, Modern Art Notes, The Washington Post, and New American Paintings, and has received residency fellowships to Anderson Ranch, Virginia Center for the Creative Arts, and The Hambidge Center. A native of the South, Rushin earned her MFA at Georgia State University and currently lives in Tallahassee where she is an Associate Professor of Art and Director of the Graduate Program at Florida State University.
Website: swallowawindchime.com