The Women For FSU 2015

The Women for Florida State University Present
Backstage Pass: to the very best of Florida State 2015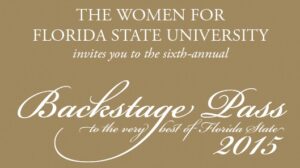 We are so pleased that the College of Fine Arts' departments of Art Therapy and Art will be featured during the sixth-annual Backstage Pass to the Very Best of Florida State event hosted by the Women for FSU.  Each year, this event highlights colleges and programs throughout the University in a unique, behind-the-scenes experience. During the Friday night reception, Art Therapy will lead attendees through a hands-on, creative activity fostering self-awareness, and the Department of Art will showcase student work dealing with critical social issues. 
Women's stories will be shared and celebrated throughout the two-day event. They will include demonstrations by FSU's College of Nursing, the WIMSE (Women in Science, Math, and Engineering) Living-Learning program, as well as a tour of the recently renovated Coyle E. Moore Athletic Center. The event concludes with a dinner and awards reception, where the Gift of Wisdom Award will be presented. It has been several years since departments within our College have been featured; at the inaugural Backstage Pass, The School of Theatre as well as the Museum of Fine Arts were a part of the programming. We're glad the Women for FSU have chosen to feature our College again. 
For more information on the upcoming events, see backstagepass.com
Although space for the weekend's activities is limited to the first 100 individuals who register, this invitation is open to all women who support Florida State University.
Event Information
Special Events Department
Florida State University Foundation
(850) 644-9189
women4fsu@foundation.fsu.edu