This is How it Happened Exhibition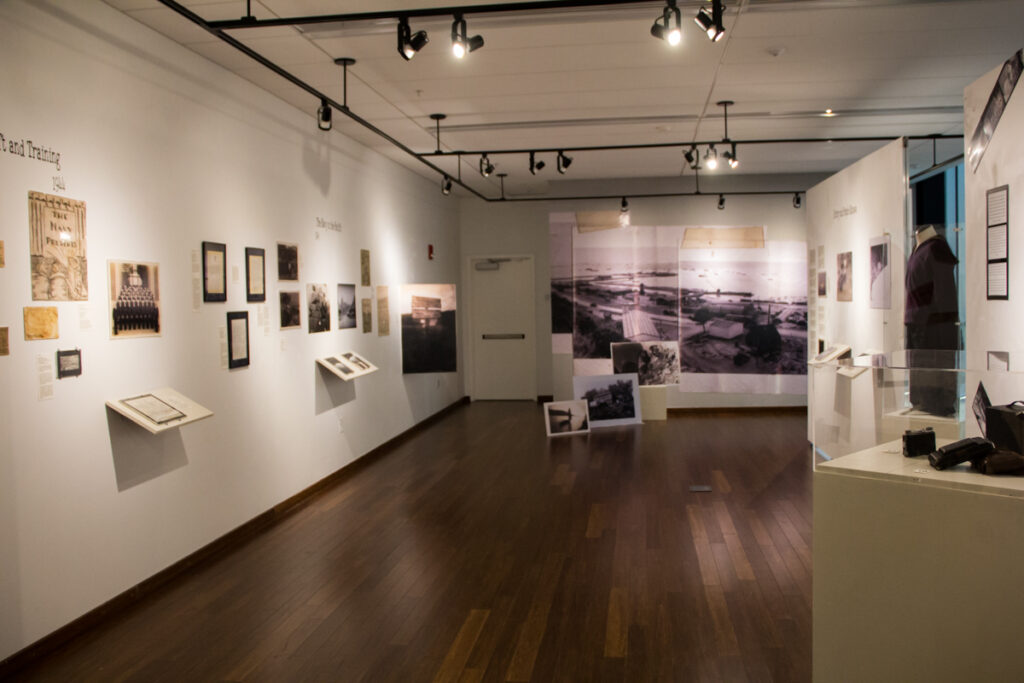 "This is How it Happened: An Officer's Perspective on the Okinawa Occupation" (1944-1946) is an exhibition on WWII put on display by The Department of Art History's Museum Object Class, with help from the Institute on World War II and the Human Experience. The exhibition consists of artifacts, period clothing, newspaper clippings, photographs, and learning activities for children, such as letter writing and quest games.
Opening Night reception drew a crowd of students, faculty, and members of the general public. Adults and children of all ages explored the exhibits and read about the stories of U.S. soldiers, Japanese society and children, Okinawa, and World War II while listening to period music.
"Since it began in 1939, World War II had grown into a massive international conflict. by 1944, the war saw a major shift with the European theater drawing to a close, while significant battles in the Pacific were yet to be seen. The United States occupied the island of Okinawa from 1945 through the 1972. Even though the Occupation formally end-ed in 1972, a United States military presence still remains. In the late stages of the war, men in the United Stats were still being drafted and shipped overseas. One man in particular was Donald H. Kupfer, who became a Navy officer in 1944. He arrived in the Pacific in 1945, and was stationed in Okinawa until 1946. The exhibition moves chronologically, following Kupfer's journey as he documents his draft, training, and occupation experiences through personal photography."
The focus of the Institute on WWII and the Human Experience is "collecting and preserving the memories of people who served in the military or volunteered on the home front during WWII and the immediate post-war period (1939-1949)." The institute is one of the biggest in the country and houses the sixth largest WWII archive in the world.
The Museum Object Class is limited to only 12 students and instructor approval is required to register. The course combines museum history, practice and theory with hands-on work through exhibitions and internships. Students are given the opportunity to view objects and the culture they represent from perspectives of not only art history but also archaeology, anthropology, history, and natural science. During the semester, they conceive, design, and execute an exhibition and create an online companion exhibit. This semester's class consists of: Marissa Acey, Daniel Bianco, Stephen Bigel, Janet Clement, Mya Frieze, Madeline Hart, Michelle Ibarra, Erika Iversen, Geena Jones, McKenna Mulvany, Lisa Ortigas, Alexandra Refosco, Carla Russo, Helena Tracy, Caroline Turner, and instructor Alison Reilly, Ph.D Student, Department of Art History.
"This is How it Happened" is on display in the William Johnston Building Gallery and will be available until December 4th, 2015.