Tom Anderson's Retirement Party/Selfie Show Recap
On Friday, October 16, 2015, Florida State University students, faculty, and staff gathered together for the opening reception to Dr. Tom Anderson's gallery exhibition entitled The Social Selfie Project. The evening was dedicated to honoring Dr. Tom Anderson's retirement and 34 years of service to the Department of Art Education and the university.
In March, Dr. Anderson was named Art Educator of the Year by the National Art Education Association. He is perhaps best known for developing a novel approach to art criticism now widely known as the "art for life" and co-authoring Art for Life, a textbook that has been widely used in programs across North America and now is being translated into Japanese, Korean and Chinese. Since joining the FSU faculty, Dr Anderson has mentored about 40 doctoral students, led art education workshops; appeared as the featured speaker of national and international conferences; served as editor of several journals and other publications.
Dr. Anderson is credited with helping the FSU graduate program in art education rise to national prominence. In fact, FSU Art Education Department Chair Dr. Marcia Rosal declares Dr. Anderson—who joined the faculty in 1983 and now is its longest-serving member—"the very heart of our program."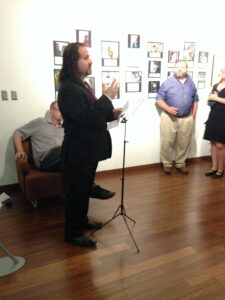 The Social Selfie Project consisted of a series of selfies taken by Dr. Tom Anderson, the "Selfie King," that date back to the 1970's and continue all the way to the present day. Dr. Anderson captured precious moments spent with his family and friends, community, traveling the world, and matriculation through the years in his photographs. Also included in his project were selfies submitted by others. A short caption or brief story accompanied each photo in order to explain that particular picture's significance.
Delicious hors d'oeuvres and a selection of wines were provided for the guests, and Dr. David Gussak, chair of the Art Education Department, spoke about Dr. Tom Anderson's achievements over the course of the years and his commitment of service to the university. Dr. Anderson also gave a speech thanking his family and guests for their attendance, and he further explained the purpose of his social selfie project.
The evening concluded with the guests gathering together downstairs for additional refreshments.