Upcoming Art Education Fall 2017 Community Mural Project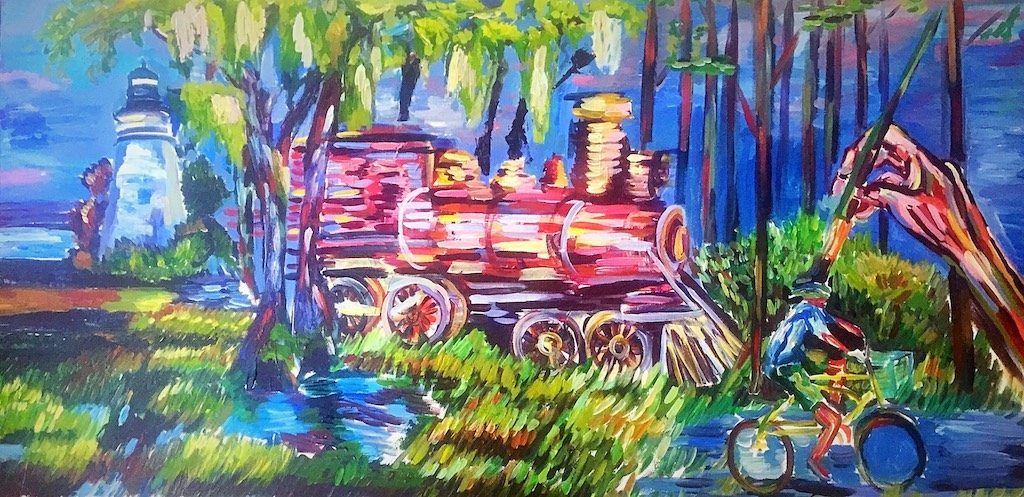 The FSU Department of Art Education would like to cordially invite students, staff, faculty, alumni, and the Tallahassee community to take part in and contribute to the Department of Art Education's Fall 2017 Community Mural Project! It will be a valuable opportunity for the community to come together to create a lasting impact on the city of Tallahassee.
Called "Tallahassee on the Move" and created by second year Art Therapy student Jordyn Dooley, the mural design is inspired by the transition from the past to present day of the Tallahassee area where the local business AMWAT was built, which has now become a major moving enterprise. Starting on the left side of the painting, a lighthouse represents the beginning of the Spanish settlement at St. Marks, which then transitioned to a hub of industry and became home to the first railway in Florida. On the right side of the painting, a cyclist represents how Tallahassee is riding into the future, which is in turn being painted by the present.
The mural located at the AMWAT Moving Warehouse Storage building, the Fall 2017 Community Mural Project will begin in October 14th and continue through October 28th. Students and educators from the Department of Art Education being present to assist volunteers and the community with painting the mural. All painting materials, including brushes, are provided at the site, and it is recommended for volunteers to wear clothing they do not mind getting messy in. All ages and skill levels are more than welcome to participate!
Painting hours will be every day from 9:00 a.m. to 8:00 p.m., but make sure to continue checking the event's Facebook page for updates and any schedule changes. Therefore, volunteers are highly encouraged to confirm the current schedule before heading out to the site.
Join the FSU Department of Art Education in such an exciting and special opportunity to leave your mark on the Tallahassee community!