Volunteer Opportunity: The Big Event 2017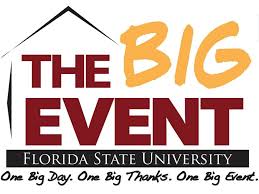 The Big Event Team would like to invite you to participate in The Big Event Tallahassee 2017. The Big Event is a one-day, student-run community service event. On March 25th, thousands of students from local colleges will do service projects across Tallahassee to show our gratitude to the community. The Big Event improves Tallahassee, creates lasting bonds with community members, and inspires students to get involved in community service.
This year will be the 10th anniversary of The Big Event Tallahassee. Our goal is to recruit 3,000 volunteers. Many of our volunteers participate with their clubs or organizations. Registration closes on March 10th. Both students and staff members are encouraged to participate.
Please visit http://thebigevent.fsu.edu/ for registration and more information.