Waging Peace! at The Plant Spring Workshop Series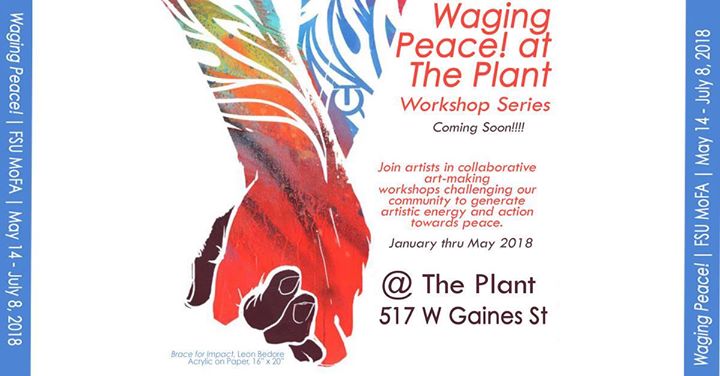 ---

This spring, the Department of Art Education invites you to join the broad coalition of participants in the Waging Peace! at The Plant Workshop Series.  As a community wide project, The FSU Museum of Fine Arts is planning an exhibition for May 2018 called Waging Peace! while working with teachers in the Leon County area to integrate lesson plans that focus on different artists from the exhibition.  Joining this effort, The Plant and local artists/creatives designed a series of collaborative art making workshops for the community to engage in creative artistic dialogue around this theme as it relates to Tallahassee.  The artworks created at the workshops will be exhibited at The Plant this May 2018 and will be included in a May 2018 student tour of Waging Peace! sites around town.
The Plant, at 517 W. Gaines Street, is an inclusive, creative and safe D.I.Y. community space where everyone is welcomed and empowered to organize, research and encourage the free expression of others.  The Plant is solely operated by volunteers and donations, valuing engagement, education, and empowerment. The Plant is an organic space that grows with the community by bringing together diverse groups, demographics, and ideas together around creative expression.  Currently, The Plant holds open meetings every Tuesday at 6:00pm, open to members of the community to propose events, classes, meetings, as well as become involved with volunteering and using the space.  Volunteers at The Plant also care for and manage events in the Art Alley, a city-funded rehabilitation of an alleyway between Gaines Street and St. Francis Street.
Two FSU graduate students from the Department of Art Education are involved in this community project.  Doctoral candidate and Plant volunteer Jennifer Hamrock is the Plant workshop series coordinator and on the museum's Waging Peace! committee.  Master's student Hayley Munn designed one of the Plant workshops in collaboration with BFA senior Jenn Egelfeld. called Creating P(ea/ie)ce.  Their workshop aims attention at recycling and takes action to raise the consciousness of the amount of waste we produce by experimenting with how trash might be used differently through creating found object art installations made with recyclables.
Waging Peace! at the Plant workshops are intended for all ages and abilities.  Two workshops will kick off the series this January:
Pods of Peace
Hosted by artist Jennifer Haskins, a fashion designer and milliner from North Carolina. She has 10 years of art teaching experience in public schools and also loves to roller skate and play the ukulele. You can find some of her creations on etsy. The workshop will take place on January 27th from 11:00am to 3:00pm and is open to all ages.
Workshop description:  How can we both speak with and listen to each other about celebrating and working towards Peace in Tallahassee?  During this workshop, we will collectively create "peace pods" out of paper mache' using local and national newspapers, balloons, and other inflatable balls. We will paper mache' with newspaper to emphasize what is going on in our community and to create a space for the articles we want to read in our paper. While our peace pods are drying, we will create a work (or works) that expands the dialogue about our important topics and expresses the news you would like to see in our local paper. This can be a written article, a drawing, a painting, a collage, a song, or poem (or whatever you craft) that will be put into a peace pod.
Draw or Doodle: What Would a Peaceful World Look Like to YOU?
Hosted by artist Paul Rutkovsky.  Paul has been working with community activists on a new experiment, The Plant, an all-inclusive space to organize, research, and encourage the free expression of others. The Plant is a not for profit venue and is operated by volunteers.  Events held at The Plant are free and for all ages. The workshop will be held Tuesdays and Wednesdays between January 16th thru February 28th from 4:30pm to 6:30pm. This workshop is open to all ages.
Paul has worked with community volunteers, city officials, and students to transform blighted urban alleys in Tallahassee, called the Art Alleys, into humane cultural resources, where art events have been organized and presented for seven years. He also has been working with the Doodle Cart:  Do A Doodle And Get A Free Organic Fruit Or Vegetable, has been touring since 2015.  The Doodle Cart is a portable doodling and produce cart that invites all to be creative, to eat healthy whole foods, and to avoid pesticides and genetically modified factory food products.
Workshop description:  This collaborative project is meant to be a visual conversation between two community spaces, The Kearney Center and The Plant.  Clients from the Kearney Center will draw/and doodle on the paper on designated days on mural paper.  The mural will then be installed at The Plant, an open community space for anyone to respond to.  The mural will be taken back and forth between spaces over a six week time span to create layers of dialogues between various community members.
A complete list of the workshops and descriptions held through May 2018 can be found on The Plant website and the event Facebook page.
Material and monetary donations for these workshops are welcomed.  If you would like to make a donation, or have any questions about this community project, please contact Jennifer Hamrock at theplant.tally@gmail.com.