The Ringling Welcomes Paul Rudolph Walker Guest House Replica
Written by Matthew McLendon, Curator of Modern and Contemporary Art
In November, The Ringling will have a new occupant on its storied grounds. In partnership with the Sarasota Architectural Foundation (SAF), a replica of architect Paul Rudolph's 1952 Walker Guest House will be built. While Rudolph is known globally as the former Dean of the Yale School of Architecture and father of the "brutalist" style, in Sarasota we know him as one of the fathers of the Sarasota School of Architecture. Popularized in the mid-twentieth century, the Sarasota School of Architecture stressed the use of locally-sourced materials, large windows and screens allowing cross ventilation, and new, non-traditional commercial materials for domestic architecture. Today we see in this the roots of sustainable or environmentally-friendly architecture. In short, the mid-century Sarasota architects stressed good design, and good design never goes out of style.
The original Walker Guest House still stands on Sanibel Island and was commissioned by Dr. Walter Walker and his wife Elaine. The most notable features of the Guest House are the large plywood flaps which are raised and lowered by a pulley system. When raised, the house benefits from large screened windows allowing for cross ventilation. The 24' x 24' Walker Guest House is one of Rudolph's most loved designs.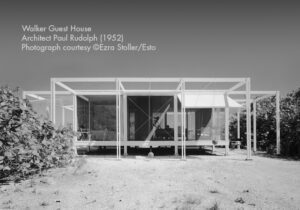 The full-scale replica, which will reside at The Ringling, will be designed so that it can easily be disassembled and relocated to locations across the country to educate audiences about Sarasota and its contribution to modernist architecture. This effort heightens awareness of Rudolph's Florida legacy as well as the important legacy of the other Sarasota School architects.
Yet another connection with The Ringling exists. The architect of Ca' d'Zan, Dwight James Baum, sent his employee Ralph Twitchell to Sarasota to oversee the building of John and Mable Ringling's winter home. Twitchell remained in Sarasota and opened his own architecture firm, eventually hiring a young Paul Rudolph, with whom he would collaborate on several important projects.
This exhibition is sponsored by the Arthur F. and Ulla R. Searing Endowment.