Alumni Association Kicks Off 3 Torches Series with College of Fine Arts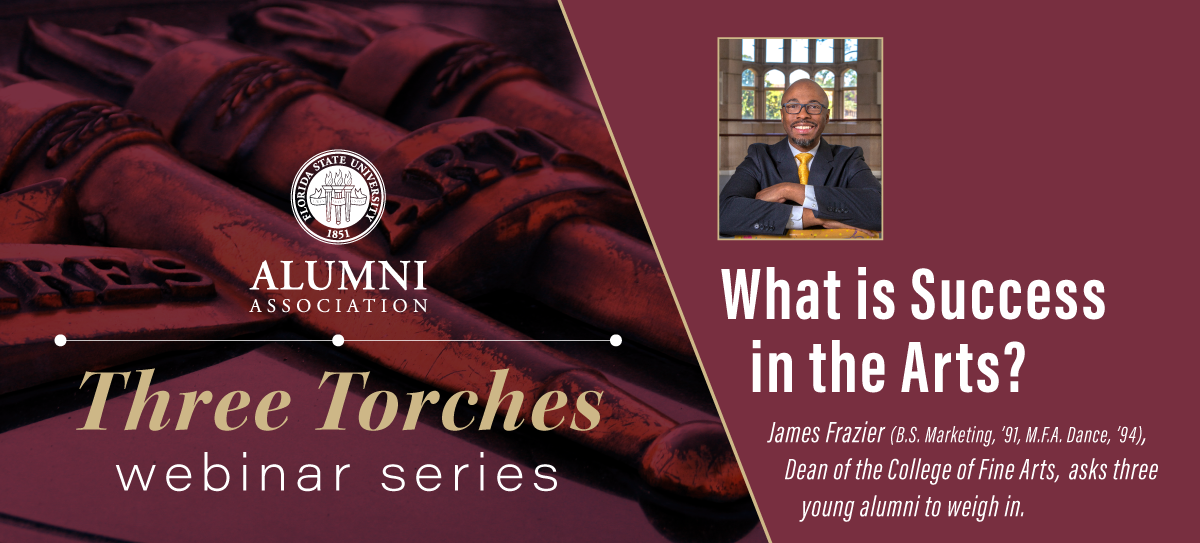 The FSU Alumni Association kicked off the first edition of its new 3 Torches Series on Thursday, February 25. This series features conversational style interviews, through which alumni speak on the unique experiences learned at FSU that allowed them to develop successfully in their professional endeavors. The first of the 3 Torches Series, titled "Success in the Arts", was moderated by Dr. James Frazier, dean of the College of Fine Arts, and included three College of Fine Arts alumni that have all graduated within the last decade. The alumni brought to the discussion their experiences as working professionals after graduation, as well as the contribution that their experiences at FSU lent to their success.
"This series is an important spotlight on the success of our College's alumni. Highlighting the various careers of our alumni is key in illustrating that a degree in the arts is a valuable tool in the viable preparation for a diverse professional world" said Frazier. "Our programs provide students with a skillset that is supported with modern technological innovations, as well as support from faculty who facilitate networking opportunities with top professionals in their fields. Participating in the first panel this series was a valuable and fun experience and a lot of fun."
---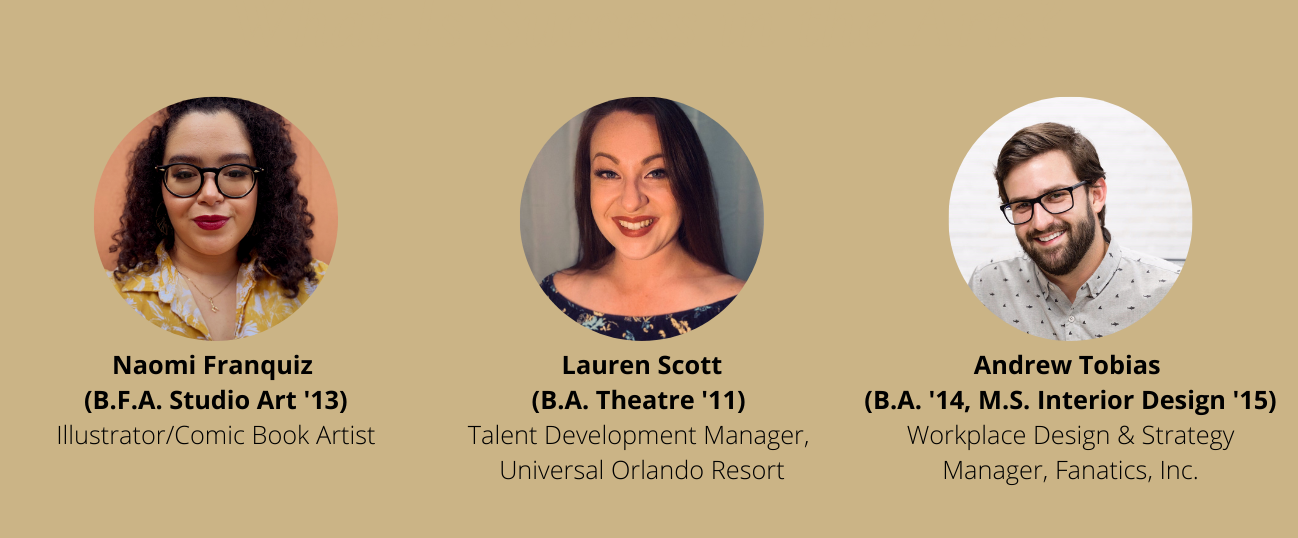 ---
Naomi Franquiz (BFA Studio Art '13)
Naomi Franquiz originally planned on working on projects more conceptual in nature, such as storyboarding for games and movies. However, while participating in the BFA program she developed a passion for narrative art and shifted her focus to comics. Now, Franquiz is making a name for herself as an illustrator and comic book artist, whose work focuses on character-driven narratives and expression. Some of her published works include: Misfit City, Unbelievable Squirrel Girl, Tales from Harrow County Dead Man's Choir, along with various other cover illustrations and indie publications.
"We each have different experiences in our lives that shape how we view anything from character concepts to how a world could be." Franquiz said.  "True intertwined collaborative effort [is] never just one person."
One of the most professionally constructive tools that Franquiz engaged in during her time at FSU was the development of her resume to enter the BFA program. Students and faculty helped her critically construct her portfolio which taught her how to work collaboratively and be able to take criticisms and turn them into effective learning experiences.
Lauren Scott (BFA THEATRE '11)
After holding numerous roles with Universal's entertainment team, Lauren Scott found her niche as the Talent Development Manager at Universal's Orlando Resort. She first began working with Universal in 2008, and has worked closely with show support, production, casting, scheduling, and stage management. In 2015, she joined the talent development team as an instructor, and now oversees the training processes for Universal's Volcano Bay.
During her time within the Theatre program, Scott worked in the costume department, participated in student theatre productions, and took voice lessons with an MFA candidate in the College of Music. "All of those opportunities helped me to develop both professionally in the craft and personally as well" stated Scott.
Scott encourages students to use the multitude of resources that FSU has to offer when it comes to progressing in your field. She also wants students to know that a large part of career development is who you know. When Scott started working at Universal she began to realize how deep the alumni pool is there and around the country. Her connection to other FSU alumni has allowed her to ease into an abundant amount of networking conversations.
"Lateral development or development outside your linear career path is still development that will help you to progress."
Andrew Tobias (BFA '14, M.S Interior Design '15)
Andrew Tobias currently serves as the Workplace Design and Strategy Manager at Fanatics, Inc. In his role, he acts as the designer, project manager, coordinator, and facilitator of corporate office renovations, new construction, environmental branding, and workplace strategy. Fanatics Inc. is the world's number #1 licensed sports merchandise brand.
"Keep track of all the details, as it only gets more complex when you enter the professional world," Tobias advices. "Ask your professors, what would this be like in a business setting?".
Tobias came to FSU with experience in architectural drafting and graphic design, and had been interested in art classes since his time in high school. Entering college, he knew he wanted to be involved in a creative field that also had some technical edge. Tobias is extremely appreciative of the internships that the department of Interior Architecture and Design encourages students to pursue. He said his most memorable internship was his experience at the FSU Master Craftsman Studio. Tobias also spent time volunteering at Studio D and working as a furniture design TA. He encourages current students to ask questions and value any and all practice.
If you missed the live presentation, catch up now by watching here: