Home
»
News

»
Art Fighting Alzheimer's: Associate Professor Keith Roberson is Part of Award-winning Research Team
Art Fighting Alzheimer's: Associate Professor Keith Roberson is Part of Award-winning Research Team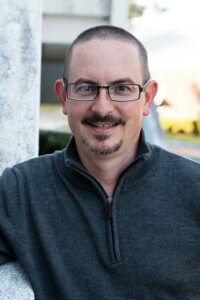 Associate Professor of Digital Arts Keith Roberson has teamed up with faculty and staff members from the College of Communication and Information, College of Medicine and FSU Facilities to develop a project known as DeepCare, intended to improve the quality of life for those at risk for Alzheimer's Disease. The team was recently awarded $50,000 in internal funding from the FSU Office of Research.
DeepCare will use artificial intelligence to improve social connectedness and emotional wellbeing among individuals with Alzheimer's disease and dementia. The project seeks to improve the lives of older adults by customizing interventions based on art, music, cognitive training and chatbot interactions.
Our idea is that digital art can serve as a creative outlet for these individuals," explained Roberson. "We are also interested in Chatbot technology, which could be trained in talk therapy techniques.
As part of this project, Roberson is developing a way for patients to use AI image generation, collaborating with the AI to create art through text prompts. Previous studies have shown that this type of art therapy, known as "art on behalf," can be effective in improving quality of life measures for patients. Members of the public can try similar technology at NightCafe.studio, where Roberson is the virtual artist in residence.
I see AI as the next step for artistic tools," said Roberson. "It is simply blooming with possibilities for what the next generation of artists will be able to create, and it's very important for our students to gain experience with these emerging technologies.
You can see some of Roberson's work created using AI on TikTok at tiktok.com/@keefykat.
The award-winning team was one of five that competed in Collaborative Collision: Community+, an initiative that united researchers from around the FSU campus and local organizations to explore projects focused on community.
To learn more about the Collaborative Collision program and the internal funding programs available through the Council on Research and Creativity, visit the ORD website and internalfunding.research.fsu.edu.