College of Fine Arts Alumni, Sara Dimmick and Brett Player, Honored at Seminole 100

The College of Fine Arts is proud to announce alumni, Brett Player and Sara Dimmick have both landed a spot on the Seminole 100 list for the second consecutive year.
Hosted by the Jim Moran Institute for Global Entrepreneurship, the Seminole 100 annually celebrates the fastest-growing FSU alumni-owned or alumni-led business to honor entrepreneurs and allow them to share valuable business insights with each other.
Congratulations to Sara Dimmick and Brett Player! Read more about their companies below.
Physical Equilibrium, Sara Dimmick (BFA Dance 2001)
PLAY Inc., T Brett Player (BS Studio Art 1993)
Physical Equilibrium – Sara Dimmick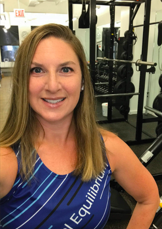 It's a great honor to be included in this list of accomplished FSU alumni for a second year in a row.
Through the creation of Physical Equilibrium, Dimmick has found the synergy between physical fitness and running a business, while always keeping future growth in mind. She has coached triathlon and running clients since 2006, many of whom have qualified for national and world competitions. Using her knowledge of injury prevention and post rehabilitation fitness, Sara designs effective and safe gym programs for her clients to excel and stay injury-free. She also teaches group classes in strength training for endurance athletes, family workouts with kids, and other total body strengthening classes for adults.
Sara Dimmick, founder and co-partner of Physical Equilibrium has been a personal trainer since moving to NYC in 2000.
My first job as a trainer, I was hired specifically because of my experience as a dancer. I took that job for the normal reasons people do, but it turned into a passion for me…I enjoy working with clients and helping them get to a healthier place.
Sara is a recognized thought leader on health and fitness and has contributed to numerous media stories, both nationally and regionally. She is an avid triathlon competitor, having completed everything from sprint to half-ironman distances throughout the country as well as running and marathon races. Becoming a mom was the driving force behind the creation of Physical Equilibrium's FamFit series, fitness classes for kids and families.
PLAY, LLC – Brett Player
Brett Player has 20 years of experience in brand communications. His agency, Play, LLC has helped create and launch consumer brands for Spanx and Assets, re-imaged looks for Zoo Atlanta and Pace Academy, enhanced perception in higher education institutions like Clemson and University of Miami and launched national ad campaigns for BMG music and Freshlook Color Contact Lenses. Player graduated from FSU in the early 90's with a degree in Studio Art. He loves giving back to the University by being on the College of Fine Arts Dean's Advisory Council; chairing the Development Committee, helping with marketing initiatives and other council activities. Along with FSU, Player also serves as an Adjunct Professor at the Miami Ad School and Furman University.
It means a great deal to be honored for the second consecutive time. This is directly tied to our sustained relationships with growing clients. That's our high-water mark, helping our clients to be financially strong by providing effective communication that resonates.  – Brett Player
As a graduate of Florida State with a degree in Studio Art, Player is no stranger to looking at situations through a creative lens. Player found his artistic medium in advertising and branding. Within this craft, he established an agency that, at its core, recognizes the value of building relationships through meaningful communication. "To do this, we come up with creative solutions, because inspired creativity breaks through all noise," said Player.
He also attributes his current successes to lessons learned in past positions, and encourages future generations of artists and entrepreneurs to understand how experience can mold professional endeavors.
The term "intrapreneurship" recently resonated with Player. "It translates into working at an organization that allows you freedom of both craft and ownership," he said. "Much like apprenticeship of the past, learn your craft by working with others you respect, and then take these experiences with you in opening your own organization." As Player's company continues to reach new heights of growth, he never neglects to have fun, and encourages everyone to PLAY. For more on Player and PLAY, please visit www.goplaydesign.com.
For more information, visit seminole100.fsu.edu.