Alumna Dr. Jennifer Feltman Receives Whiting Public Engagement Grant for Virtual Reality Gothic Cathedral Program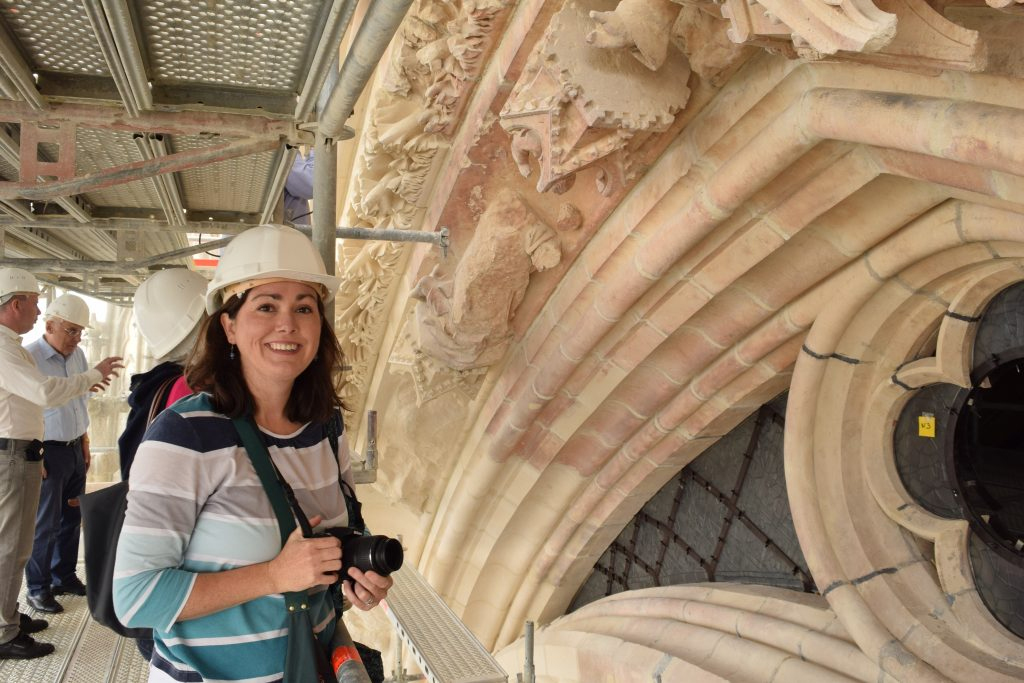 Alumna Jennifer Feltman (PhD '11, Assistant Professor, University of Alabama) has been awarded a Whiting Public Engagement Seed Grant for her project "Experiencing Gothic: A VR Cathedral for Middle School Students." She is partnering with an international team of teachers and digital media experts to build a virtual reality experience of the Cathedral of Notre-Dame at Reims in France and incorporate it into middle-school media arts classes in Tuscaloosa, Alabama. The project will enhance State of Alabama curriculum and aims to inspire an abiding appreciation for and interest in technology and the art, architecture and history of the Middle Ages. Dr. Feltman explains her personal connection to the project:
Architecture is an experiential art form. It is as much felt as it is seen. We want to help middle-school students understand Gothic architecture through an immersive, game-like experience. I'm also excited about this project because it will allow me to work across academic disciplines. In fact, the potential for interdisciplinary thinking is what first drew me to the field of art history. The questions I wanted to ask seemed only answerable with insight from many places. I credit FSU's art history graduate program with providing the tools I needed to work in this field. But the program provided me with more than tools, it connected me to people in the field who truly cared about my success. I am especially thankful to Professors Paula Gerson and Rick Emmerson for their mentorship, which continues to this day.
The VR Cathedral Experience is the first project of Dr. Feltman's larger collaborative research project Networks of Gothic, which aims to recreate the experience of Gothic architecture and sculpture through digital media. Inspired by the interdisciplinary networks of creative people that made Gothic architecture possible, Networks of Gothic brings together art historians, educators, and digital media experts to present Gothic buildings using the latest technologies. The project relies on a highly accurate digital scan of the Cathedral of Notre Dame in Reims made by art historian Dr. Robert Bork (University of Iowa). Using this scan, a team from the FSU Film School, led by digital lighting and effects specialist Tom Mikota, will develop the VR experience.
Dr. Feltman, who has taught at the University of Alabama, Tuscaloosa, since 2016, received the MA and PhD with distinction in the history and criticism of art from Florida State University in 2011. She is one of 14 grantees in the 2020-21 Whiting Public Engagement Program, a distinctive national grant founded to champion the public humanities in all its forms and to highlight the roles scholars play in using the humanities to advance communities around the country. Dr. Feltman's application to the Whiting Foundation was sponsored by the International Center of Medieval Art.