Kris Salata, Ph.D., Named Chair of the School of Theatre, FSU College of Fine Arts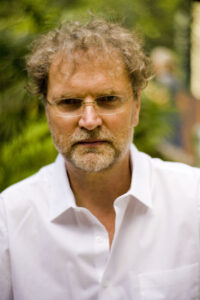 The College of Fine Arts is pleased to announce Dr. Kris Salata has been appointed as Chair for the School of Theatre as of October 2, 2020.
Salata will serve as the chief academic officer for the School of Theatre and as an integral member of the College of Fine Arts Leadership Team, working collaboratively with Dean James Frazier and other departmental chairs. As Chair of the School of Theatre, he will provide a shared vision and leadership for all faculty and staff, guiding the program through active faculty development, student recruitment, and academic planning.
I am excited about Kris Salata's new appointment. Dr. Salata brings many years of experience as an artist, educator, and scholar, with several books published and more to come. He has shown unwavering commitment to the School of Theatre and to its community of students, faculty, and staff. We are pleased to have Dr. Salata serve in this important role and to have him join the Leadership Team.
– James Frazier, Dean of the College of Fine Arts
Dr. Kris Salata holds a joint Ph.D. in Drama and the Humanities from Stanford University, and joined the faculty in the School of Theatre in 2008. Since then, he has served as a professor in Performance and as Director of the BA Program at the School of Theatre, as well as teaching practicum in the M.F.A. Directing Program, and history/theory in the M.A./Ph.D. Program. Prior to his time at FSU, Salata served as a Lecturer in the Department of Drama at Stanford University, a Visiting Faculty at Bowdoin College, and an Adjunct Professor in the Department of Theatre Arts in San Diego State University. He has also been an active member of the Documentation Team for The Workcenter of Jerzy Grotowski and Thomas Richards in Pontedera, Italy.
Dr. Salata steps into the new role following two years of stewardship of the School by Bradley Brock, EdD. Brock has been serving in an interim capacity as Executive Director for the School of Theatre since January 2019, in addition to his permanent role as Associate Director of the School. Dr. Brock will continue as a highly valued and active member of the administration.
I am honored to accept my new appointment as the Chair for the School of Theatre. Our School is a very special community full of amazing students and a passionate and deeply caring faculty and staff. We have done a lot of great things together under Bradley Brock's leadership and we shall continue to do so with my help. I am ready for this new challenge because I know I can count on our community.
Salata has published books, articles and book chapters on Jerzy Grotowski, Konstantin Stanislavsky, Tadeusz Kantor, and the Workcenter of Jerzy Grotowski and Thomas Richards. His recent book, Theatre's Carnal Prayer: Acting After Grotowski (Routledge, 2020), focuses on the actor's work as a self-revelatory total act, and on theatre centered on such an act. Founded in theatre practice, Kris Salata's narrative moves through postmodern philosophy, critical theory, theatre, performance, ritual, and religious studies, concluding that the fundamental structure of prayer, which underpins the actor's deed, can be found in any self-revelatory creative act.
For more information on the FSU College of Fine Arts, visit cfa.fsu.edu