Leora Pruitt King Scholarship Fund (F07332)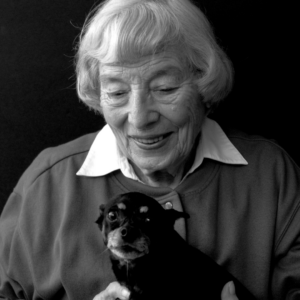 The Leora Pruitt King Fund serves as a lasting tribute to the commitment of Ms. King to the arts, higher education and Florida State University.
Ms. King grew up as one of six siblings and the first to attend college. She graduated from Florida State College for Women in 1942. While teaching, she met husband Jack King whose family ties to FSU were also strong. His aunt Nellie Godfrey King had received an education from FSU in 1906, when it was then called Florida Female College. An accomplished ceramicist, Ms. King expanded her craft to painting in retirement, finding great joy in pointillism. She was an active member of the local arts community in Gainesville, FL before moving back to her childhood home of Valparaiso in 2016, where she continued to support the arts as a volunteer and personal instructor to many.
Leora was an avid FSU football and arts fan, returning to campus throughout her life. King believed that the study of the past was imperative to moving society forward. To her friends, she was a 'keeper of things,' a trait which benefitted FSU as faculty, staff, and alumni pieced together the university's long history. Among King's treasures were the letters and postcards of her aunt Nellie Godfrey King, known for giving the commencement address to the 1906 interim graduating classes of Florida Female College, before Florida State College for Women. Ms. King donated "Miss Nellie's" collection of letters and FSU memorabilia to the University in 2015. The collection became a pivotal scholarship-in-practice experience for students that year, as noted in the article "Tarez Samra Graban's Seminar Students Get Hands-on Archival and Research Experience."
Leora Pruitt King passed away at the age of 97 on November 30, 2019. In her life, Leora made several outright gifts to support students who intended to teach art in K-12 schools in Florida. Charitable Gift Annuities established with the FSU Foundation have created a legacy of support in the form of this endowed fund.
Leora Pruitt King Scholarship Fund Past Recipients:
Kristin Gula, 2010 Recipient, BA in Studio Art and Art Education
Megan Coward, 2011 Recipient, MS in Art Education
Dorothy Demay, 2012 Recipient, MS in Art Education
Verena Mellein, 2014 Recipient, BA in Studio Art, MS in Art Education
---
Make a Donation
To make a gift online to this fund, please click the Give button, choose "More College/Unit Designations" and type in the fund name. Please mail checks, made payable to "FSU Foundation" with the fund number (F07332) noted to the address below.
To discuss a gift to the College of Fine Arts at Florida State University, please contact:
Jessica Comas
Director of Development
FSU College of Fine Arts
236 Fine Arts Building
Tallahassee, FL 32306-1170
(850) 645-0701
jcomas@fsu.edu