A Brief History of the Arts at Florida State University (Research)
Florida State University's College of Fine Arts is home to degree programs in Art, Art Education, Art History,  Dance, Interior Architecture and Design, and Theatre. The College also houses several non-academic units including the Museum of Fine Arts, the Facility for Arts Research and the Maggie Allesee National Center for Choreography (MANCC). Many of our programs rank among the most respected in the nation. We are proud to feature specialized programs that leverage relationships between departments and museums to enrich the degree-based curriculum.
Though the structure of the college is XXX, it has not always been this way. Looking back to the founding of Florida State University in the 1800's, the arts have always been an important emphasis in all programs and degrees. This article focuses on the history of the Arts within Florida State University and how we became who we are today.
The Arts has always been about expanding the mind, thought, and understanding of the world over preparing for a career.
---
FSU College of Fine Arts Origins 
On March 23, 1833, Congress appropriate two entire Townships of land for seminary purposes to the State of Florida; and on March 3, 1845, when Florida was admitted as a State into the Union, Congress appropriated two additional Townships of land for Seminary purposes, with very liberal provisions for public schools.
The Constitution of the State of Florida, Article VIII., Sec. 2, provides as follows: "The Legislature shall provide a uniform system of Common Schools, a University, and shall provide for the liberal maintenance of the same.
West Florida Seminary 1880:
– West Florida Seminary opens with the purpose "for the instruction of persons, both male and female, in the Art of Teaching all the various branches that pertain to a good common school education; and next, to give instruction in the Mechanic Arts, in Husbandry and Agricultural Chemistry, in the Fundamental Laws, and in what regards the right and duties of citizens.
-75 cents per month to each pupil.
-"There will be a uniform tuition fee of seventy-five cents per month to each pupil, which must be paid monthly in advance to the Treasurer of the Seminary. French, Music, Drawing and Painting at teacher's rates."
"Board may be obtained in respectable families at $12.00 per month, including fuel and lights.
In February, 1883, Florida University was organized under a liberal Charter and two Colleges have been in operation—the Literary and the Medical.
Florida University 1884-5:
The Colleges recognized by the University Charter are five, as follows: Tallahassee College of Medicine and Surgery; Literary College; Law College; Theological Institute; Polytechnic and Normal Institute. There is no Art Department at the time, but you can take classes in:
Painting in oil or pastel, per quarter – – – – – – – – –  $10.00
Painting in water colors,
Drawing in Pencil or crayon; decorative art – – – – – $7.50
Seminary West of the Suwannee River 1886-7
With free tuition, the only expense to be incurred were for books, board, and washing. Board can be obtained in private families from $12-20; washing from $1.00 to $1.50 per month.  It already has communication with the chief centers of population in the State, and it will soon be reached by new lines of railroad in for directions. For students without a proper educational upbringing, Seminary West of the Suwannee River provides high school classes that would prepare students for collegiate work. Classes in drawing, writing, and spelling were required in each term.
The Seminary was charted by the Legislature of Florida in 1851, organized and put in operation in 1957 by the Board of Education appointed by the Governor and confirmed by the Senate. Up until 1858, only men had received instruction. On that day it was resolved, "That the Board provide for the instruction of females from and after the first day of October, next." In
By 1897 the institution had evolved into the first liberal arts college in the state, and in 1901, it became Florida State college, a four-year institution organized in four departments: The College, the School for Teachers, the School of Music, and the College Academy.  Plans for Women's and Men's Dormitories were made. Known for a STRONG Liberal Arts program.
In a 1905 reorganization of Florida's educational system by the Legislature, six state institutions of higher learning were consolidated into two when the University of Florida in Gainesville was established and designated a men's school and the Florida State College became a women's school called the Florida Female College.
The Florida Female College
The next 40 years deepened the sense of the arts importance at the University, as its' emphasis was placed on the liberal arts.
1905-1906 
The College of Liberal Arts
Embracing:
Department of classical alnguages
Department of English
Department of Mathematics and Astronomy
Department of history and political science
Department of philosophy and education
Department of physical science
Department of natural science
Department of drawing
Department of oratory and physical culture
There is:
School of Art
Embracing:
Drawing and Painting
History of art
Clay Modeling, designing and carving.
School of Industrial Arts
Embracing:
Cooking
Sewing, Dressmaking, millinery
Housekeeping
Horticulture and floriculture
Industrial Drawing
School for Teachers
Embracing:
Classical, literary, and scientific studies
Vocal music
Freehand and industrial drawing
Domestic science and manual training
Reading and physical culture
During commencement week there will be an exhibition of work one by students of the Art School.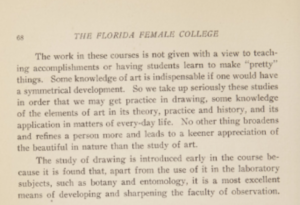 No other thing broadens and refines a person more and leads to a keener appreciation of the beautiful in nature than the study of art
Total expenses for art per year in the School of Art is $145.00- $150.00
School of Expression begins: Beginning of Theatre
"Until recently but little attention was paid to the underlying principles of expression. The subject was taught almost entirely as an imitative art. Progressive thinkers have now so developed and systemized the constituent elements of voice and action, that the study of oratoryis taking a place by the side of the sister sciences in the best curricula of our country. STUDY: Physical Culture, Bodily Expression, Life Study and Voice Culture. " PG. 101.
Florida State College for Women
1908 
The College for Women was founded in the belief that Florida was in great need of such an institution for the higher education of her young women, many of whom, though worthy of the best training, could not hope for a thorough education without assistance from the State. The State maintains that it is no longer necessary for her young woman to leave her borders to find the educational advantages that will fit them for all the activities of life, for the duties of the home, and for the highest enjoyment of the best that life can offer to the truly educated woman.

"Seeking the deeper meaning of education, the Board of Control felt that the State College for Women was created to be a source of warmth and light, of hopefuleness and good cheer to the young women of Florida Its highest mission was felt to be the infusion of the young women of the Commonwealth with such light and warmth that they should become lamps, trimmed and burning with perennial flame, radiating the spirit of helpfulness, usefulness and good will in every neighborhood of this State; to be a place where young women might come for intellectual light and spiritual quickening and warmth, a place where all noble ambitions should be awakened, where the best that is in human character should be brought to the light, and where love to God, love to humanity and love to country should be made a ruling passion. So it was provided that the college should offer a wide variety of courses both theoretical and practical, in domestic art, elementary agriculture, horticulture and pedagogy, music, art, and expression, in addition to the more standard courses of general literature, liberal arts, and sciences. The dormitories were converted into studios for music and art." Pg 5 Flastacowo 1910.
The "School of Fine Arts" is slowly developing and becoming "properly equipped." Pg. 83 The School of Art has four large studios, with sky-lights, and all the apparatus and equipment needed for the most efficient work in Art.
The School of Fine Arts consists of the Department of Music, the Department of Art, and the Department of Expression.
Besides still life drawings in various mediums, portrait sketches, and bits of surrounding landscape, a comprehensive course in Art History is offered. It covers the development of ancient art: the leading schools and their comparative merits; besides a study of modern artists and their work. The department also has open lectures, "these lectures will be a source not only of pleasure, but information and culture." Classes in drawing infiltrate multiple schools. For example in The School for Teachers, students must take drawing and art classes in order to graduate. "The time has come when the regular teacher must know how to draw in order to do the best teaching, and all students will be required to take instruction in drawing before graduating. " In the School of Liberal Arts, students must take courses in Domestic Art and in Drawing and Design.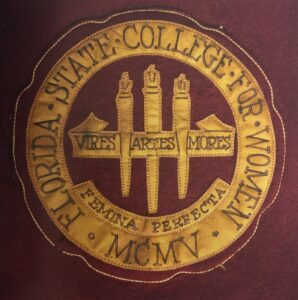 In 1909, "Agnes Granberry, an art student and member of the class of 1912 designed the new seal. It consisted of 3 torches with the words: Vires. Artes. Mores.(Strength. Skill. Customs.) on a banner and signified the mission of the college to educate students physically, mentally, and morally: to create Femina Perfecta, the Completed Woman." Robin Sellers, Femina Perfecta: The Genesis of Florida State University, Tallahassee: 1995
Florida State College For Women 1910-11
There are now two art history courses that have developed out of a
History of Art –offers two courses:
-Arts in Egypt and Assyria in relation to Greek Art
-A careful study of the Classic, Roman, Gothis and Renaissance periods, and of the influence of these periods upon modern art, illustrated by sterpticon views.
Home Economics:
Domestic arts: original design with applications in hand-work and home decoration.
Brush and ink
Charcoal and water color
Dressmaking
(a)child's hat
(b)winter hat
(c) summer hat
In 1915, before WWI, a touring company performed Hamlet and The Taming of the Shrew and the students did their version of Puccini's new Madame Butterfly. (Theatre)
In 1925, Assistant Professor Williams taught Art. The courses included drawing from still life, casts, draped figured and sketching outdoors in all mediums. He also taught the study of color, costume design, interior decoration, history of art, commercial art, mechanical drawing (lettering, working drawings, geometric constructions, and house planning), advanced design (problems in batik, enamel and gesso), figure sketching, lettering (for application to various fields including sign making, bulletins, posters, booklets, and place cards) , and still life drawing. Covering a multitude of subjects and practical art applications.
National Honor Society of Phi Kappa Phi was installed in 1925, the year after the College was placed on the list of standard colleges and universities approved by the Association of American Universities and became a member of the Association of American Colleges.
"I want poets to be declared equal, I guess, to– what shall I say, scientists? No, big businessmen. I want poets declared equal to big businessmen." Quoted in Helen Muir, Frost in Florida: A Memoir, Valiant Press, 1995.
1930- Grows to become the third largest women's college in the nation during the 1930s. Art courses are growing
Artist Series in the season of 1929-1930 includes Music and Drama (Minneapolis Symphony Orchestra), Art Exhibitions (Photos of Modern Stage Productions, Prints and Etchings of Theatre, Paintings by Contemporary American Artists, 1930 Water Color Rotary, French Modernists (Facsimiles), Contemporary Wood Block Prints, Paintings by Faculty of Grand Central School of Art.
Dance courses begin in the Department of Physical Education: Nellie-Bond Dickinson is the professor & Chair of Dance.
" A driving force for modern dance at FSCW and FSU was Nellie-Bond Dickinson (known to many as Bondie), brought the dance program, which was then within the physical education department, to a new level with her own choreography and performance and by twice bringing Martha Graham to campus. Dickinson studied with Graham in New York, an experience hat she has said was life-changing." Pg. 53 FSU Voices
FOLK DANCING, CLOG DANCING (and athletic dancing), DANCING, ELEMENTARY NATURAL & INTERPRETATIVE DANCING, ENGLISH COUNTRY, MORRIS & SWORD DANCING. 
Industrial arts has fun classes in pottery and crafts for summer camps.
In 1935 the first chapter of Phi Beta Kappa in the state, Alpha Chapter of Florida, was installed at the College, a mark of its status as a true liberal arts college.
THE ART GUILD: The main purpose of this club is to promote art interest on the campus. The members sponsor exhibitions and hold an annual show of their work. Membership is open to junior and senior art majors meeting the scholastic requirements of the organization.
Art classes are the same but there is more of a variety of art history classes. Art & Art History & Interior Decoration are combined. Some ARH courses: History of Ancient Art, the art of the middle ages & renaissance, oriental art, modern art,
MUSIC:
Orchestra and Glee Club
 "Elementrary Creative Dancing" turns into "Modern Dance"
In the speech major you could take "Creative Dramatics for Children" and "Play Production" Yay, Theatre! The Augusta Conradi Theatre opens in 1931 "as a source of legitimate theatrical entertainment. It has been an aim for the Speech Department to provide actual experience for the student in all phases of theatrical production and at the same time to contribute to the cultural and educative needs of the university." Pg. 187 1947 FSU Catalogue
The year 1947 saw many changes. Demand by returning World War II veterans had brought men back to the campus in 1946 with the establishment of the Tallahassee Branch of the University of Florida, and on May 15, 1947, the Governor signed an act of the Legislature returning Florida State College for Women to coeducational status and naming it The Florida State University. A permanent president's residence was acquired. The student body, numbering 4,056, chose a new alma mater and selected the Seminole as their athletics symbol. The Flying High Circus was born, and football was started again when the first home game since 1905 was played in October. Three years later Campbell Stadium was built. The first Student Union was established and housed in the "O Club" on West Campus, a former Army Air Base which housed mainly men students and provided some classroom space three miles west of the main campus.
There is a classes called "Crafts for Summer Camps, Playgrounds and Hospitals" and it is possibly the first sign of Art Therapy in 1940.
1945- Print making classes start as—"Graphic Arts" : Block Printing, woodcuts, wood engraving, lithography, etching, drypoint, and aquatint
A lot of art was centered around the home and the hearth. For example, " Art as Applied to the Home" – A study of the aesthetic and social aspects of color, esign, and materials as developed and used in modern and historic domestic architecture and interior decoration. Industrial Arts, is a college where you can study, wood working, blackboard drawing, constructive design, basketry, pottery, crafts, handloom weaving, metal work, modeling, bookbinding, pattern dying, jewelry, constructive design, and leathering.
Industrial Arts: Methods, drawing, design, and construction.
1947: The Florida State College or Women became the Florida State University by an act of Legislature completely redefined the University System of Florida. For the first time since 1905, men are gain admitted at Tallahassee and at present they exceed the number of women students. They split up Physical Education for Men and Physical Education for Women. Contemporary dance, Tap & Character Dancing, and Folk Dancing all fall under PE for women. No dance for men.
Tuition for Florida Students: Free
Tuition for Non-resident Students: $175
The School of Music is very developed at this point, with music education classes, music theory and literature etc.
In the Department of Art, there is a class called "Stagecraft"- Illustrated lectures covering the solution of mechanical problems encountered in the crafts of the theatre; methods of construction and handling scenery, the use of properties and lighting equipment, and the development of standard effects.
Theatre is starting to develop more.
-In the Department of Art there is a class called "History of Interior Design" as well as a class called "Interior Design."
There is also now a DEPARTMENT OF ART EDUCATION, CONSTRUCTIVE  DESIGN AND INDUSTRIAL ARTS!
Yay! There is Art Education classes as well as and "Administration and Supervision of the Art Programs" class. (Art Admin starts up!)- study of budget and laboratory planning for the art program at various age levels. Theory and practice in teaching art.
1952: Art Department offers a Master of Art in Painting and History and Criticism of Art.
During either their Junior or Senior Year, all majors are required to attend the Art Seminar at the Ringling Museum of Art, Sarasota Florida.
In the Department of Speech there are classes in Stagecraft: lectures covering the solution of mechanical problems of theatre. In Essentials of Acting, Stage Management and Production, The Theatre: A survey of theatre (physical structure, script, production methods, acting, costumes, and audience) as a reflection of cultural history and, in turn, as a cultural influence, Essentials in Stage Design, Stage Lighting, Stage Costume Design, Children's Theatre, Essentials in Playwriting, Essentials in Directing,  Advanced Stage Design, Direction, Educational and Community Theatre, Seminar in Play Production, Advanced Playwriting,
In 1953, Dick Puckett and Ed Franklin became one of the most recognizable icons at the newly co-ed institution.They choreographed many routines for the Marching chiefs, theya ccompanied the band's salutes ot everything from Broadway to Disney, from Glenn Miller to Elvis Presley. They danced with majorettes, juggled balls and clubs, hurled flaming batons into the air, and caught them behind their backs."
"Puckett and Frankling had such incredible presence," said Nancy Fichter, who made them into the first males she used in her legendary Days of Dance programs.
1955:
School of Education:
Four-Year Curriculum in Arts Education
Four-Year Curriculum in Industrial Arts Education
Four Year Curriculum in Dance—professionally trained teachers in Dance
There is a Department called "Audio-Visual Education" with classes in Construction an Use of Graphic Audio-Visual Materials, Sound Film, Construction and Use of Still Projected Materials, Correlation of Radio and Recordings with Audio-Visual Aids in Education, Cinematography, Basic Communications.
THERE ARE NOW SO MANY DEPARTMENTS AND OPTIONS FOR STUDY- holy cow! Arts are flourishing!
Audio Visual Education—very very beginnings of Motion Picture Arts but focused on televised programming.
Classes called : Production, the Motion Picture,  Basic Motion Picture Photography, Photography.
Television Education- the purpose of this area of the Department of Audio-Visual Education is to prepare teachers for the instructional aspects of educational television. A four-year program leading to a specialization in television teaching presupposed adequate preparation in one or more of the subject fields in addition to specific preparation in educational television.
FSU's Theatre Program: 1957
1960's
College of Arts and Sciences:
Departmental Major:
Art
-creative arts
– history and criticism
Dance Education
Art Education & Constructive Design
Theatre is still in Speech
1962- first black student was enrolled in FSU.
Nancy Fichter chaired FSU's dance program for thirty-three years starting in 1964. "The big dream was to build a place where serious dance could happen, a truly professional program that would send young dancers out into the world of concert dance and where the new dance could be made. It was the ideal of "conservatory within the university," and that vision was beginning to be realized at a few places around the country in the 1950s and 1960s." Page: 110. "It certainly seemed like an unlikely alliance in those early days when there was considerable count expressed about the place for serious art-making in the groves of academe, but time has proved that the art have a stellar role in a university and FSU has taken strong leadership in the arts" FSU Voices
1969 Radio and Television
Four-year course that is designed to prepare students for positions in commercial or educational radio-television.
1970s: "Vietnam, Cambodia, Kent State, moratorum and demonstration were words sweeping across campus in spring of 1970." Pg. 130. The Vietnam war was raging. Students were rebelling against the war. 
Continuing the liberal arts tradition begun in the 1890s, the Liberal Studies Program required of all undergraduates was expanded and strengthened.
"A Miami Herald columnist once said FSU's Asolo Theatre compnay in Sarasota had the "daring of a cat burglar." This could describe the theatre program at FSU since 1957. – Richard Fallon pg 139 FSU Voices
1971 OPENING OF THE FINE ARTS BUILDING!  Originally the departments of art and speech were to be moved into the new building, but it soon became clear that both would not fit. So, Dr. Robert Lawton, then dean of arts and sciences, decided to separate theatre from the speech department, creating a new department which I would chair." Richard Fallon
Cowles proposed inviting Gian Carlo Menotti, the distiniguished Italian composer to direct his first nonoperatic play, The Leper. The FSU administration was thrilled. Menotti accepted and brought two professional actors with him. This became big news throughout the state and country. We decided to ask Menotti if he might invite some of the international celebraties who followed him everywhere and he agreed… Ninety of the most illustrious celebrities ever to appear in Tallahassee came. These included the first string theatre critic from the New York Times, who gave FSU its first Times review; the pretender to the Italian throne; the italian ambassador; distinguished poets,  composers, and actors, including Tony Randall; and many very wealthy people interested in the arts. When it was al over, we had raised money for the school, the School of Music was invited to Spoleto, and many lasting friendships were forged. Pg. 138.
ABOUT THE GALLERY :
"In the beginning was the Fine Arts Gallery– and the Gallery was good. There were some wild curators in the early years– one show was a conceptual piece consisting of massive gold frames with nothing behind them, just the empty wall. The carpet was electric blue (color-field painters hated that), and the walls were brick or raw concrete, which became intricately studded with screw anchors. Every time a painting or photograph was hung for a new show, it was always at a different height from work hung in the last show. One enterprising graduating artist, Marsha Orr, put a bean in each empty anchor in her section of the gallery, watering them for the week preceding the opening. By opening night, of course, they had all sprouted.
Over the seasons of exhibitions beginning in 1970, and through the procession of directors– Bruce Dempsey, Len Kleckner, Marsh Orr(Interim), Albert Stewart, and myself– the walls were eventually faced in with neutral board and the carpet changed to a sober gray. We have worked hard to make the space more art friendly and we have come of age an institution, now named the Museum of Fine Arts. The changes reflect not only the permanent collection holdings (roughly 4000 works of art), but also the new stature of the museum, its place in the Museum Studies program at the university, and the increasingly ambitious and nationally competitive curatorial and publication projects undertaken here. We continue to divide our calander between exhibitions which are awarded prestigious grants and write art history, and the lively graduating artist and faculty exhibitions (which occasionally write local history — more letters to the editor than thought were thought possible). The Museum of Fine Arts is a vital and colorful mix, a place where scholarship and creative one-upmanship balance in the limelight of public scrutiny. There is never a dull moment, the programs are an effervescent spectrum of media and points of view, and the museum is a lovely place to visit– either by yourself of with a K-12 cast of thousands." Allys Palladino-Craig, Director, FSU Museum of Fine Arts
1974:
"The dance program at Florida State University is based upon the central premise that art and education are both extensions of the total humanistic endeavor. Both represent man's effort to organize and interpret experience and cast it into significant form. Both reveal man's desire to increase his sensibilities and to develop his own powers, to enable himself to live fully and meaningfully and to extend himself into another shape of experience . No conflict, therefore, is seen to exist between dance as education and dance as an art form. Curricular opportunities provide a balance between learning to dance and learning about dance. The student explores the scientific, philosophical, and historial foundations of dance and pursues the development of technique and choreographic ability." Page 50
1980s- Ringling
he Ringling was designated as the official State Art Museum of Florida in 1980 and was added to the National Register of Historic Places two years later. It has been administered by Florida State University since 2000 and is now one of the largest university arts centers in the United States.
John Ringling was born in McGregor, Iowa, in 1866. He was the product of humble origins but became one of the wealthiest men in America. At the root of his success was the Ringling Bros. Circus, which he founded with four of his brothers in 1884.
John married Mable Burton of Moons, Ohio, in 1905. They were, by all accounts, a happy couple with shared interests in art, culture, and travel. They made their first visit to Florida in 1909 and purchased property in Sarasota two years later.
Department of Art
23 full time faculty members.
Offer courses in creative art (including drawing, painting, sculpture, graphics, photography, cinematography, and visual communications.) In creative art, students can work toward a  B.A., B.F.A. or M.A.
And
History & Criticism of Art. Students in Art history can receive a B.A., M.A., or Ph.D.
The Department has several aims:
To stimulate students of the visual arts to the free expression of their creative ideas and emotions
To provide instruction in the skills and techniques necessary to this expression
To guide students to an understanding and appreciation of the visual arts of all areas
to instruct students in the methodology required for the accurate study of the history and criticism of art
in conjunction with these pursuits the department administers the University Art Gallery
Pg. 60
Department of Art Education and Constructive Design
Art Education for the preparation of art teachers in public schools or colleges and universities; art in recreation personnel; and art therapists
Constructive Design, for the training of designer-craftsmen, crafts instructors and product designers in ceramics, metals, fabrics and furniture.
Department of Interior Design
They learn to identify, research and creatively solve problems relative to the function and quality of man's environment. The competencies taught inclide: fundamentals of interior design, design analysis of residential and non-residential interiors, technical proficiency in presentation of design solutions, space planning and programming, and the understanding of related aspects of environmental design.
In the 1973, Interior Desing was in the College of Communication Visual Arts, but in 1978
But in 1976, IAD broke off and Dr. Mary Jo Weale led the new Interior Design program. The program was granted initial provisional accreditation by the Foundation for Interior Design Education Research. There is an active student chapter of the American Society of Interior Designers and the faculty includes professional design members of this organization and the Interior Design Educators Council. Boht a Bachelors and Masters program are available. Pg. 59.
1974- School of theatre, before it was a department in the college of arts and sciences.
School of Theatre, Richard Fallon- Dean. Students may take advantage of the London Program.
Richard Fallon served the theatre program from 1957 to 1989.
20 productions during a year on campus.
Theatre and Dance were apart of the same department  in 1974. The dance program was a separate entity in 1974.
School of Dance: Nancy W. Smith is the head of the dance program during the 1970s. "The dance program at Florida State University is based upon the central premise that art and education are both extensions of the total humanistic endeavr. Both represent man's effort to organize and interpret experience and cast it into significant form. Both reveal man's desire to increase his sensibilities and to develop his own powers, to enable him to live fully and meaningfully and to extend himself into another shape of experience. No conflict, therefore is seen to exist between dance as education and dance as an art form." Pg. 65 The curriculum has many kinds of experience; but at the heart of it is the moving, the dancing—and the making of dance." Pg. 65
In 1986, The School of Visual Arts was formed, consisting of the Department of Art, the Department of Art History, the Department of Art Education, the Department of Interior Design, the Department of Dance, the Institute for Contemporary Art, and the University Fine Arts Gallery.  "It functions to enrich the lives of students and to provide them with the means of self-expression in an increasingly complex and impersonal technological society. The study and practice of art are both viewed as a necessary link in the educational system, both as a learning process and as a means of personal fulfillment." Pg 386 They also have a center for arts administration. TONS of courses, including photography. In Art History, they offer courses in Florence, Italy and in London, England.
1989– Filmschool — SE Region film making!
"The Appleton Museum of Art in Ocala, one of the South's premier art repositories and education centers,  opened in 1987 and became jointly owned by Florida State Univeristy in 1990. Originally built to display and preserve the collection of Arthur I. Appleton, the museum has expanded to include traveling exhibitions, educational programs, and cultural events." Pg. 176
"With the advent of museum studies, a graduate certificate program for students who want museum careers, and the acquisition of the John and Mable Ringling Museum of Art, I feel that I am in the right place at the right time. This university has made a commitment to the arts and to museums, and I take great pleasure in joining my collegues that have made this happen. " – Susan Baldino, Director of Appleton Programs and Museum Pg. 176
On July 1, 2001, the Legislature voted to transfer the Ringling from Florida's Department of State to Florida State University. On sixty acres on Sarasota Bay the John and Mable Ringling Museum of Art has one of the most valuable collections in the nation, a circus museum, and a thirty-one room Venetian-style mansion. FSU will administer Ca'd'Zan, the former Ringling home, and use it for education– from the elementary schools through university levels. The FSU Center for the Fine and Performing Arts will conduct academic programs in Theatre, Dance, Art, Art History, and Museum Management.
The collection includes major works by Peter Paul Rubens, Diego Velasquez and Rosa Bonheur. The museum specializes in Baroque Art but its collection also includes antiquities, sculpture, and decorative arts.
In 2001, Artist Ron Yrabedra donated his painting Seminole Palm to the 2001 Seven Days of Opening Nights Festival. The painting became the festival's official poster.
"As Tallahassee celebrates many expressions of art throughout our community, and as our students benefit each year from exposure to wonderful artists like Claire Bloom, Hal Holbrook, the Boston Pops, Suzanne Farrell Ballet, and Davis Gaines among so many others, we understand more deeply than ever before the importance of art in our lives."
Jawole Willa Jo Zolar is a dance professor and creator and member of the Urban Bush Women, an acclaimed New York-based dance troupe. In 1999 she won FSU's Dr. Martin Luther King, Jr. Distinguished Award.