Associate Professor of Art, Judy Rushin, Featured in Unrequited Leisure Art Gallery
Unrequited Leisure Art Space
625-A 7th Avenue South, Nashville, Tennessee 37203
July 1st – July 28th, 2019
---
Judy Rushin, Associate Professor of Art and MFA Program Director for the Department of Art, will have her solo exhibition, Judy Rushin Wears Weelsee Wen, on display at the Unrequited Leisure art space in Nashville, Tennessee.  The exhibition features new textile works by Rushin and will be on view at the gallery from July 1st to July 28th, with a Second Saturday Reception on July 13, from 6:00 to 8:00 PM.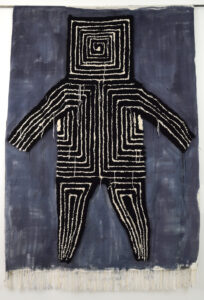 Rushin's newest body of work is a series of highly textured fiber wall pieces presented through the persona Weelsee Wen, a time traveling artist of Rushin's invention. These pieces represent jumpsuits of various utilitarian functions ranging from mechanic's coveralls to hazmat suits which are hand-tufted onto canvas backings with cotton, wool, and synthetic fibers and painted with synthetic dyes and paints. Rushin's work has always focused on finding meaning through the process of making, and most recently these processes have led her to the question: what will I wear to the apocalypse?
David Bowie said an outfit is an entire life experience. I'm thinking about Bowie throughout this whole body of work from the use of a persona to the idea of using clothes as subject matter.

– Judy Rushin
Rushin hopes that by allowing Weelsee Wen to return with work from the year 2048, we might actually have an answer to the question.
Judy Rushin's work has been exhibited in museums, galleries, front yards, and other alternative viewing environments across the US. Recent exhibitions include The Ringling Museum of Art, The Ulrich Museum, The Orlando Museum of Art, Alexander Brest Museum, Terrain Projects, and Flashpoint Gallery. Her projects vvvvv and Comma are in eleven collections including Vanderbilt University, University of Wisconson, Miami University, MassArt, Baylor University, University of Washington, University of Southern California, Cal Poly University, and University of Utah. She has been featured in Burnaway, Modern Art Notes, The Washington Post, and has completed residencies at MASS MoCA, Virginia Center for the Creative Arts, and Hambidge Center.
---
---
To learn more about Judy's work visit her website.