CFA Hosts Welcome Back Celebration for Students: Ready…Set…Go!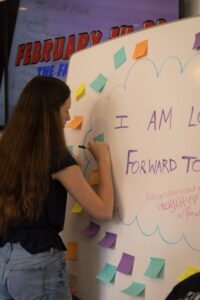 On September 5, 2019, The College of Fine Arts held a welcome back event for our students, Ready…Set…Go! The event kicked off the school year for all CFA students to welcome them back to campus.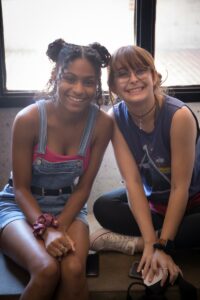 When students first entered, they were able to grab a free CFA T-shirt, available to all those who haven't received a shirt prior, to represent their college. Goodie bags with words of encouragement from Dean Frazier were available along with CFA promotional material, pizza, subs, drinks and popsicles. CFA students also played corn hole with their friends, took photos and selfies with fun props, and wrote what they were most looking forward to in the new school year with Post-It notes on a giant white board.
While students hung out in the Fine Arts Lobby and enjoyed some music, they also had the opportunity to chat with Dean Frazier and Senior Associate Dean Shamp to discuss their school year and goals for the future.
A special thank you to Saleshia Ellis, the Events and Outreach Coordinator for CFA, for putting on such a successful and fun event!