Come To The Party: The Spirits Are Welcoming at FSU exhibit
Story by Marina Brown, Tallahassee Democrat
Ever been there? The party where you've dressed up, put on a funky costume, painted your face, sparkled your hair, then held up a mask to cover your eyes because inside your world was crumbling?
That sensation is one interpretation of one layer of the many that are presented in the Florida State University's Museum of Fine Arts' exhibition of Haitian-born artist, Edouard Duval-Carrie'.
What immediately hits a visitor is the atmosphere — it's Carnival. Riotous color, magentas nudging oranges, edgy emeralds tickling turquoise, sunburst yellows gripped by fire engine reds. On 6ft x 6ft resin discs or a flower-draped, terracotta Vodou goddess, the colors spin and collide; Latin American drum beats seem to throb gaily from the assemblages of curated flora and fauna—and spirits— that Duval-Carrie' has gathered into his works.
Until one looks more closely. Miami-based, Haiti-centric, Edouard Duval-Carrie' is not only an artist, he is a consumer of history. He — and his family — have studied it and lived it. And behind the "party" that swirls from the walls of the MoFA, lay the inconvenient truths of slavery, exploitation, cruelty, dictators, and natural disasters with which this most bedeviled of Caribbean islands has been yoked. It also speaks to the indomitable spirit of its inhabitants — often as personified by the very spirits, the Iwa, that in yet another layer, dwell amongst Haiti's living.
Edouard Duval-Carrie' was born into a well-placed family on the island; his father, a businessman had nannies for his children and education was a given.
Yet, Haiti's subterranean cultural beliefs, Vodou, the ones that underpin what it means to be Haitian, found him a ready observer. "I was just a child when my nanny took me with her to a Vodou festival in the countryside," he said by telephone. "I would say that Vodou is practiced in some way by 99% of the people, blending Catholic practices, yes, but after you begin in the Church of Notre Dame des Amis, things shift to Vodou flags and candles. The fervor of those celebrations made an indelible impression on me."
However, fearing the dictator Francois "Papa Doc" Duvalier, when he was 10, Duval-Carrie's family was forced to flee to Puerto Rico. Later the young artist-to-be would study in Montreal and take up residence in France. It wasn't until he was an adult that he reunited with his Haitian roots. Though he hadn't been an idle student of its history.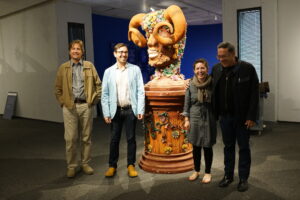 From 1492 when Christopher Columbus claimed Hispaniola for Spain, its ceding to France's Louis XIV and the beginning of the slave trade, through to the slave-uprising in 1801 by Toussaint L'Overture and Haiti's winning of its own independence, Duval-Carrie' found inspiration for his commentaries that now had begun to include large assemblages in a variety of media.
Often painted directly onto aluminum panels, or in resins and acrylics, etched or decoupaged, Duval-Carrie' lets the history of the island's colonization play out, lets it flow north to the American South, not shying from images of lynchings which may be elegantly cached in illuminated resin panels that resemble glorious windows of glass.
And always there are the spirits.
In Triptych des Mysteres, skeletons and sea goddesses contemplate entry into a dazzling cave… sparkling with the real sugar that Duval-Carrie' incorporates to remind us of the oppression of its Haitian cane-harvesters—despite the glitter.