College of Fine Arts Students at the Undergraduate Spring Research Symposium 2018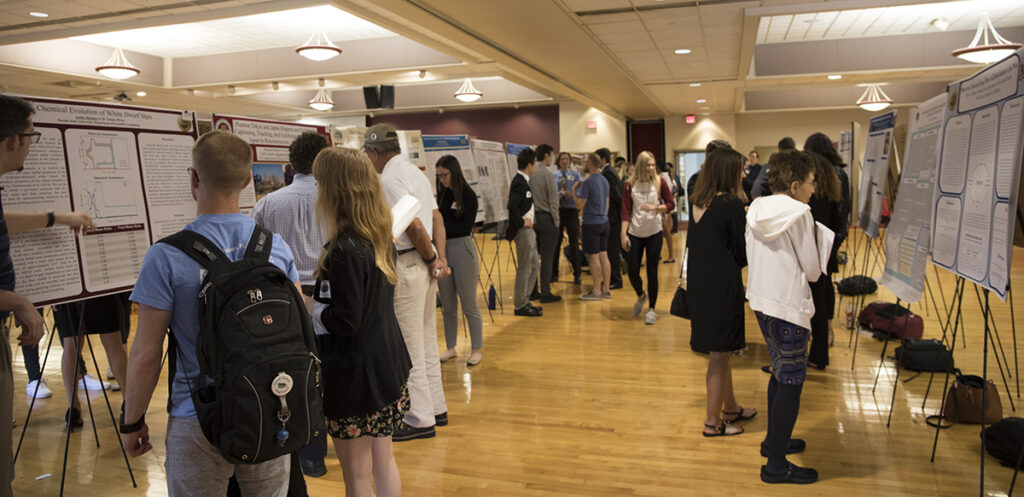 After countless hours of research a week over the span of two years, Florida State University UROP students displayed their research projects in Oglesby Union Ballrooms on April 3, 2018.
The Undergraduate Research Opportunity Program (UROP) offers a rare opportunity for first- and second-year students to partner with our excellent faculty as research assistants. Students in UROP work closely with faculty and peers, receive mentorship and training in the UROP Colloquium class, and present their contributions in the Spring Research Symposium. UROP is open to students of all majors.
We would like to especially congratulate College of Fine Arts students Phoebe Scheidegger, Jasmine Johnson, Britney Lyon, Stanley Zimmerman, Bridget Nievinski, Paris Gilstrap, Lydia Moss, and Samantha Hall for successfully presenting their projects.
Phoebe Scheidegger presented for the Department of Art History with her presentation, "The Power of Photography." Scheidegger explored the importance of photography in historiography, and centered her project around photos of females by females working Standard Oil of New Jersey in the 1940's.
From the Interior Architecture and Design program, Jasmine Johnson presented "Walkability in the Built Environment." Johnson studied relationship between objectively measured neighborhood walkability and walking behavior among older adults in the Tallahassee Community. This project explored what factors influenced mobility of Tallahassee Community members 65 and older.
Britney Lyon presented "Digital Modeling of Hosios Loukas" for the Department of Art History. The goal of this research project is to find out how much of each kind of marble was used in the making of the south church of the Byzantine monastery Hosios Loukas. Through different programs, Lyon was able to determine six different types of marble with a 10% error. This research further contributes to the amount of man power, location, and other materials used in the construction of the Byzantine monastery Hosios Loukas.
Stanely Zimmerman presented "Extruded Shapes Using Experimental Fabrication Methods" for the Art Department. This project used different programs and techniques to create the artwork of UROP laboratory PI Chris Christian. While this endeavor is aimed at an academic goal, the works reflect well onto the Tallahassee community when presented at various art shows; the work even further illustrates to the university how technology of the modern day has more applications than many seem to consider.
"Sustaining an African Voice: Theatre for Social Change" by Bridget Nievinski asked if Bernard Binlin Dadié's plays, a West-African scholar and political activist, contributed to social change in Western Africa after colonialism.
apresented "The Representation of Women and Minorities in Science through Photography." This project explores the representation of women and minorities in the photographic documentation of lab work archives of Dr. Carl S. Marvel and Roy Chapman Andrews. This project seeks to recognize these women and minorities whose work has been overshadowed.
"Through the Viewfinder: Using New Media to Facilitate Conversation Between Youth and Their Communities" was presented by Lydia Moss. Her research was the continuation of Rachel Fendler (PhD, Department of Art Education) in questioning the role of new media in giving youth (particularly minority youth) a sense of agency. This was done by helping children create videos of various subjects of service activities.
Samantha Hall presented "Mapping the History of Black Museums: From the Neighborhood to the National Mall." This project focuses on the gathering of information on the origins and history of African-American museums to inspire those conversations about African-American history. Hall further questions becomes how will the institutions pay homage to the smaller institutions that paved the way for its existence,—cultivating them rather than syphoning from them.
We are so proud of our College of Fine Arts Students that represented us at UROP. It was wonderful seeing all your hard work pay off, congratulations to all of you!