Cosmo Whyte invited to 'Prospect' New Orleans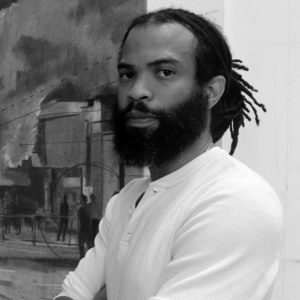 The Department of Art is proud to announce that Assistant Professor Cosmo Whyte will be one of 51 artists to be featured in Prospect 5, the fifth iteration of the New Orleans' international art triennial.
Prospect New Orleans is held every three years, inviting artists from all over the globe to a variety of fifteen venues distributed through New Orleans. Through this expo, new art is brought to an old city, with each iteration exploring a new theme. This year the theme of Prospect 5 surrounds the phrase, "Yesterday we said tomorrow" with a focus on, "What have and haven't reconciled in our own history." Artists featured in Prospect 5 will explore how history informs the present, while simultaneously contrasting newly commission art against the cities historically significant pieces.
Cosmo Whyte is a multi-disciplinary artist who employs drawing and sculpture to create conceptual work that explores how notions of identity are disrupted by migration—particularly migration as an unfinished arc of motion whose final resting point remains an open-ended question. Whyte's creative process begins through the interrogation of his own (racialized as black, gendered as male) body, and the personal memories that are embedded within it. Whyte uses this archive as the entry point into collective political interrogations.
For Whyte's contribution to the expo, he will create five new large-scale charcoal drawings, as well as a hand-painted bead curtain that will stand at 122" tall and utilize archival imagery as reference points, which will interrogate the Western gaze on Black Performativity and spectacle. The bead curtain will fill a large door frame, and each time spectators pass through the door frame to view the drawings, the curtain will break.
"My Prospect installation will reflect on my personal experience of immigrating from Jamaica to the American South by weaving a cross-cultural visual narrative with a focus on the relationship among New Orleans' cultural rituals, the Caribbean, and their broader global audiences," said Cosmo Whyte.
For more information of Prospect New Orleans, visit https://www.prospectneworleans.org/