Dean's Student Showcase Recap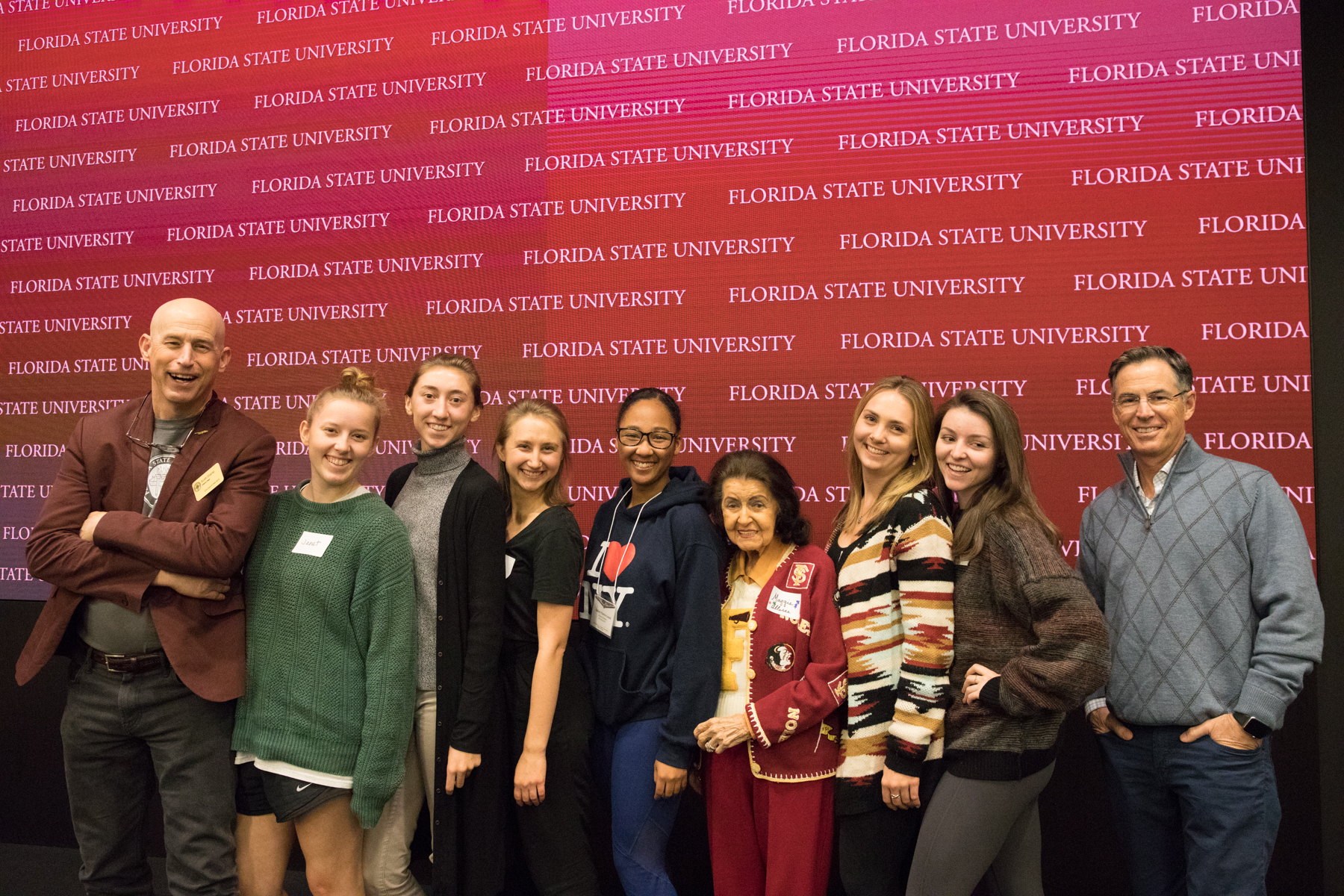 On Friday, November 17, 2017 the College of Fine Arts hosted its first annual Dean's Showcase of Student Achievement at the Augustus B Turnbull Conference Center. Twelve outstanding students, both graduate and undergraduate, presented on a wide-range of topics to an audience of over 100 students, faculty, alumni and friends.
This event was held on Homecoming Weekend with the purpose of bringing together the greater FSU community to witness the breadth of interesting projects on which high-achieving students in the College of Fine Arts are working. Each department – Art, Art Education, Art History, Dance, Interior Architecture & Design, and Theatre – selected two students to present their work. Given in a variety of formats, which included lectures, performances, and posters, the twelve presentations were divided into two sessions. Following each session, audience members were invited to meet individually with the students to ask questions.
The interdisciplinary product of this event was enlightening for all who attended. Impressed not only by the extraordinary quality of the work, attendees also enjoyed learning about what students in other departments were engaged with as well as discovering common themes across disciplines. With such success, we are already looking forward to our 2nd Annual Dean's Showcase of Student Achievement, which will be held during Homecoming 2018.
---
The College of Fine Arts would like to send its heartfelt congratulations to the 2017 Dean's Showcase of Student Achievement Participants:
Department of Art
Kasey Grace, BFA Spring 2019: Vulnerable Objects
Lisa Co, MFA Spring 2018: From a Distance You Look Nothing Like A Friend
Department of Art Education
Danielle Henn, PhD Spring 2019: Porch Culture in Havana, Florida
Angela Quintero, MS Fall 2018: Working with Migrant Populations
Department of Art History
Chase Van Tilburg, BA Fall 2018: The 3D Digitization and Modeling of the John House Stereograph Collection & its Effect on the Museum Visitor Experience and Cultural Heritage Preservation
Emily Thames, PhD Fall 2018: Enlightenment, Reform, and Identity in Late Eighteenth-Century Puerto Rico: The Art of Jose Campeche (1751-1809)
School of Dance
Stephanie Rivas, BFA/MA Spring 2017: Developing a Targeted Conditioning Program to Manage the Demands of a Choreographic Work
Ashley Pierre-Louis: BFA Spring 2019: Re-self
Department of Interior Architecture & Design
Jordan Dobrow, MS Spring 2018: Aurora Boutique Hotel
Sarah Smith, BS Spring 2018: Union Horse Distilling Co. Corporate Headquarters Design
School of Theatre
Cristian Mercado, BA Spring 2018: From My Grandfather's Hands: The Play of Puerto Rican Nationalism
Anna Trinci, BFA 2018: The Threepenny Opera
---