Dr. Ben Grace Endowed Fund (F05831)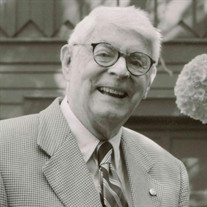 Dr. Hill Benjamin Grace (1922 – 2017) practiced dentistry for 55 years, both in the U.S. Navy and in Thomasville, Georgia where he cared for the dental needs of multiple generations of families. A native of Georgia with a strong interest in historic preservation, Grace was an Honorary Board Member of the Thomas County Historical Society and donated his home 'Burbank Cottage' to the Georgia Preservation Society in 2010. Grace was also an avid horticulturist, regularly participating in the Thomasville Rose Show.
Ben Grace dearly loved music and dance and theater and was a distinctly appreciative member of the audience for the performing artists. Having helped both physically and financially in the effort to save Eastside School for a Cultural Center, Dr. Grace became a charter member of the organization, now called the Thomasville Center for the Arts. He also served as president of the Thomasville Arts Guild, and was a board member of the Thomasville Genealogical Library, the Thomasville Historical Society, and the Tallahassee Ballet.
In 2005, Dr. Ben Grace endowed a fund with the FSU Foundation to support music theatre and dance in the College of Fine Arts. Income from the endowment has made performances possible in the Schools of Dance and Theatre since its inception.