FSU/Asolo Conservatory and Selby Gardens Pair Up for "Much Ado About Nothing"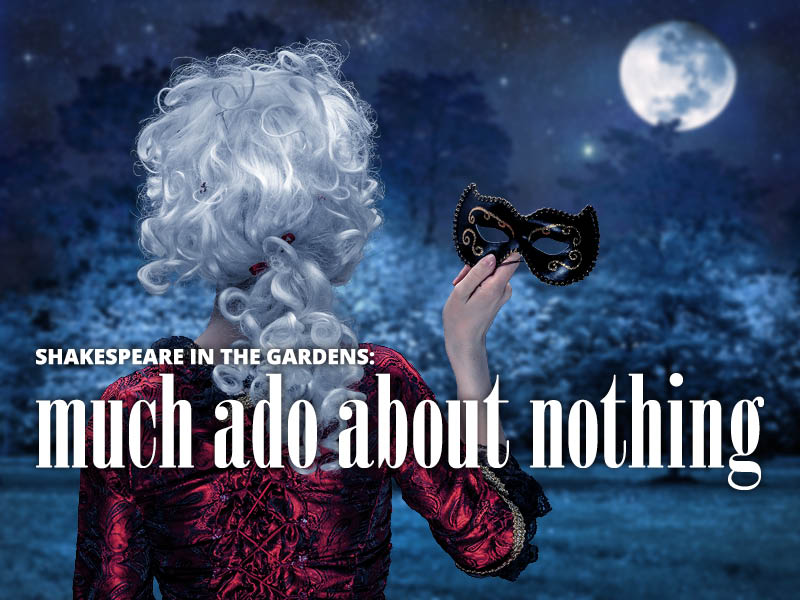 ---
(SARASOTA, FL) — The FSU/Asolo Conservatory for Actor Training concludes its 2017–18 season with William Shakespeare's Much Ado About Nothing: a classical comedy about two intellectual sparring partners, whose individual pride masks their true love. Much Ado About Nothing opens on Wednesday, April 18 and plays through May 5 at Marie Selby Botanical Gardens in Sarasota. A special pay-what-you-can preview performance will be offered to the public on Tuesday, April 17 at 8:00 p.m. with a $3 minimum. Much Ado About Nothing is made possible with support from the Charles & Margery Barancik Foundation, the Gulf Coast Community Foundation, Sarasota Observer, and WUSF Public Media.
Following a battle against his rebellious brother, the victorious Prince Don Pedro arrives at Messina with his officers Claudio and Benedick. Claudio is ready and eager to pledge his love to the Governor's daughter, Hero, while the sharp-tongued Benedick resumes sparring wits with Hero's equally quick and acerbic cousin, Beatrice. As Claudio and Hero wrestle with love and jealousy, Benedick and Beatrice are forced together in new and surprising ways, teasing both of them to reconsider the quiet intimacy beneath their loud, adversarial banter.
Much Ado About Nothing is Shakespeare's most sophisticated comedy," says Director Jonathan Epstein. "So many plays of this period are in some way battles of the sexes, like A Midsummer Night's Dream or Taming of the Shrew. In this play, however, a man and a woman—who already have a troubled history together—mutually cross the aisle to set the world straight. These wisecracking lovers and bumbling policemen have provided the inspiration for everything from Private Lives to When Harry Met Sally to the Keystone Cops.
Historians believe Much Ado About Nothing was written between 1598 and 1599—in the middle of William Shakespeare's career—and has been documented as part of the entertainment of Princess Elizabeth's and Frederick V's marriage in 1613. The majority of Much Ado About Nothing is written in prose, instead of the pentameter verse commonly used by Shakespeare and his contemporaries, creating distinct patterns of speech between characters of different social classes and emotional states. Professional productions of Much Ado in the twentieth century have garnered critical acclaim, with many Tony® and Laurence Olivier awards and nominations for the actors playing Benedick and Beatrice. Kenneth Branagh directed and stared in a film version of Much Ado in 1993, with Emma Thompson, Denzel Washington, Keanu Reeves, Michael Keaton, and Kate Beckinsale in her film debut. In 2012, filmmaker Joss Whedon produced and directed his own contemporary adaptation of Much Ado, filmed entirely in black and white.
"Much Ado About Nothing is one of Shakespeare's most mature comedies—heartfelt, moving, chaotic, and very, very funny," said Greg Leaming, Director of the Conservatory. "This production and the glorious setting of Marie Selby Botanical Gardens will be a delightful way to round out this year's Cook Theatre season. All twelve of our second-year students will shine in this lovely event. It's a terrific way to celebrate the end of their second year of training before they step into next year's season at Asolo Rep."
Much Ado About Nothing will feature performances from second-year students Lawrence James, John Wilson Bennett, DeAnna Wright, Katie Sah, Andrew Hardaway, Olivia Osol, Scott Shomaker, Dylan Crow, Matt Kresch, Erik Meixelsperger, and Sara Linares, with first-year student Carla Corvo. The production will be directed by Jonathan Epstein, with Scenic and Lighting Designer Christopher McVicker, Costume Designer Sofia Gonzales, Sound Designer Alex Pinchin, Voice and Dialect Coach Patricia Delorey, and Movement Coach Eliza Ladd comprising the production team.
Tickets for Much Ado About Nothing are $30 for both matinee and evening performances. To purchase tickets, call (941) 351-8000 or 1-800-361-8388, visit www.asolorep.org, or visit the Asolo Repertory Theatre Box Office at 5555 North Tamiami Trail in Sarasota. The box office closes at 5:00 p.m. when there are no evening performances, and phone reservations close one hour before all performances.
Marie Selby Botanical Gardens is located at 900 S. Palm Avenue in Sarasota, Florida. Food and beverages from Michael's on the Bay will be available for purchase before performances. Performances subject to cancellation in the event of inclement weather.
CASTING FOR MUCH ADO ABOUT NOTHING
Leonato ………………………… Lawrence James
Borachio …………………. John Wilson Bennett
Beatrice …………………………..DeAnna Wright
Hero ………………………………………… Katie Sah
Friar Anthony…………….. Andrew Hardaway
Petra …………………………………….Olivia Osol*
Claudio …………………………..Scott Shomaker
Benedick………………………………. Dylan Crow
Don John …………………………….. Matt Kresch
Dogberry …………………… Erik Meixelsperger
Margaret …………………………….. Sara Linares
Ursula ………………………………… Carla Corvo*
*Appears courtesy of Actors' Equity Association.
ABOUT THE DIRECTOR
Jonathan Epstein is responsible for the Shakespeare training of the second-year MFA candidates at the FSU/Asolo Conservatory. He directed the Conservatory students in last year's production of A Midsummer Night's Dream here at Selby and previously in productions of Macbeth, As You Like It, and Loot; all in the Asolo's Cook Theatre. As an actor, he has performed on- and off-Broadway and at scores of regional theaters throughout the country, but is perhaps best known for his thirty-year association as actor, director, and teacher with Shakespeare & Company in Lenox, Massachusetts. He and his wife Ariel Bock were married two weeks after starring together as Beatrice and Benedick in that company's 1995 production of Much Ado About Nothing.
ABOUT THE CONSERVATORY
The FSU/Asolo Conservatory for Actor Training is a celebrated three-year graduate program culminating in a Master of Fine Arts degree. For more than 40 years, tens of thousands of actors from across the continent have auditioned for admission. A maximum of 12 students are admitted each year. In their second year, the students perform in the Cook Theatre, a 161-seat space designed to create an intimate experience for the audience and actors. Third-year students are seen on the Mertz Stage working with the Asolo Repertory Theatre's professional actors in exciting and significant roles.
For more information, visit http://www.asolorep.org/conservatory.