FSU/Asolo Conservatory Presents "Ghosts"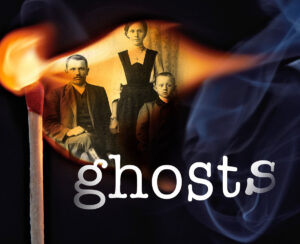 January 2 – 20
Cook Theater
5555 N. Tamiami Trail 
---
(Sarasota, FL) – This January, the FSU/Asolo Conservatory for Actor Training will present Henrik Ibsen's haunting work of drama, Ghosts, directed by Andrei Malaev-Babel. In rain-soaked 19th Century Norway, Mrs. Alving is desperately trying to maintain her late husband's positive reputation despite his personal flaws. She sends her son far away to be educated and builds an orphanage dedicated to the late and "great" Captain Alving. But when Osvald returns home for the dedication, secrets from the past come to light and the truth cannot be unseen. Mrs. Alving's hopes for Osvald and the orphanage are dashed as the fateful night unravels. A cast of five will perform "Ghosts" in the Cook Theatre, January 2 – 20 with a pay-what-you-can preview night on New Years Day (January 1, 2019). Tickets are $30.
Written in 1881, Ghosts is considered one of Ibsen's most controversial works with its numerous attacks upon 19th century morality. "The first critics of the play got lost," said Director, Andrei Malaev-Babel, "They missed the point, as they were too shocked by the sheer number of forbidden themes tackled in a single play – themes such as religious and societal dogmas and taboos, venereal disease, infidelity, incest, and euthanasia… We are still dealing with all these issues today – as individuals and as a society, directly or indirectly." Ibsen's work is timeless and despite its rough initiation, is now considered a classic and is one of Ibsen's most performed plays.
The creative team includes scenic and lighting design by Chris McVicker, costumes by Sofia Gonzales, sound design by Alex Pinchin, vocal and dialect coaching by Patricia Delorey, and movement coaching by Eliza Ladd. The cast is made up of second-year Conservatory students, Marc Bitler, Carla Corvo, Joe Ferrarelli, Jonathan Grunert, and Alex Pelletier. The show will be crewed by first-year Conservatory students.
To purchase tickets to "Ghosts" or other Conservatory productions, call 941-351-8000 or 800-361-8388, click here, or visit the Asolo Repertory Theatre Box Office at 5555 N. Tamiami Trail in Sarasota. The box office closes at 5:00 PM when there are no evening performances, and phone reservations close one hour before all performances.
---
CASTING
Marc Bitler . . . . . . . Osvald Alving
Carla Corvo* . . . . . . . Mrs. Helene Alving
Joe Ferrarelli . . . . . . . Jakob Engstrand
Jonathan Grunert . . . . . . . Pastor Manders
Alex Pelletier . . . . . . . Regina Engstrand
*Appears courtesy of the Actor's Equity Association
---
ABOUT THE DIRECTOR
Andrei Malaev-Babel (Director) is the Head of Acting at the FSU/Asolo Conservatory for Actor Training. He co-founded and served as an Artistic Director for the Chamber Forms Theatre (Moscow, Russia) and the Stanislavsky Theatre Studio (Washington, DC). He is on the board of the Michael Chekhov Association in NYCm and on the advisory board of Stanislavski Centre (UK). Andrei's performances have been presented by the United Nations, the World Bank, the Kennedy Center and the National Theatre (Washington DC). He enjoyed engagements at prestigious national institutions, such as the Smithsonian, The Kennan Institute of The Woodrow Wilson International Center for Scholars and Stanford University. Andrei is also in demand internationally, conducting workshops, presenting and performing at venues, such as St. Petersburg Institute of Stage Arts (Russia), The Latin American Film Institute (São Paulo, Brazil), The Giorgio Cini Foundation (Venice, Italy) and The Odessa Philharmonic (Ukraine). Andrei was nominated for a Helen Hayes Award as an Outstanding Director for his production of Dostoyevsky's The Idiot. His film documentary, Finding Babel received recognition within the international festival circuit, including the first prize of the Moscow Jewish Film Festival, and it is currently enjoying its theatrical release in the US, to critical acclaim. His two groundbreaking volumes on the Russian theatrical innovator Yevgeny Vakhtangov recently came out from Routledge, in the summer of 2016. Andrei is a graduate of the renowned Vakhtangov Theatre Institute in Moscow, Russia, where he worked and trained with Alexandra Remizova – one of Russia's leading directors, Stanislavsky's student and Vakhtangov's protégée.
---
ABOUT THE CONSERVATORY
The FSU/Asolo Conservatory for Actor Training is a celebrated three-year graduate program culminating in a Master of Fine Arts degree. For more than 45 years, tens of thousands of actors from across the continent have auditioned for admission. A maximum of 12 students are admitted each year. In their second year, the students perform in the Cook Theatre, a 161-seat space designed to create an intimate experience for the audience and actors. Third-year students are seen on the Mertz Stage working with the Asolo Repertory Theatre's professional actors in exciting and significant roles.